Wallpaper can be an attractive addition to many rooms in your home, but what happens when you need to remove it? If you've just moved into a home or are ready to update your current house, you may be ready for that wallpaper to go. American Home Shield® has tips on how to remove wallpaper effectively, step by step.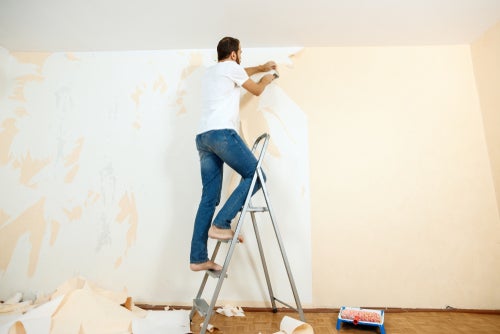 However, before you get started, decide if the wallpaper needs to be removed at all. If you plan to put up new wallpaper, old wallpaper removal may not even be necessary. Before ripping and tearing, examine the current wallpaper. Is it in good condition and smooth against the wall? If there are no cracks, bubbles, or bumps, save yourself a weekend project and simply apply the new paper over the old. If you want to paint the wall, you'll need to remove the wallpaper.
Tools for

Removing Wallpaper
Here is a list of items you may need for your wallpaper removal project:
Tarps

A garbage can for the old paper

A wallpaper removal tool like the Husky 4-inch soft-grip wallpaper stripper

A bucket of hot water, dish soap, and a sponge or liquid wallpaper remover purchased in spray or concentrate form
A putty knife

Painter's tape

A ladder, if you're removing a wallpaper border

Personal protection gear like safety glasses, gloves, and a mask
Step 1:

Protect your furniture, outlets, and floors.
Removing wallpaper can be a messy job. Lay down tarps to protect your floors, and drape additional tarps over any furniture or appliances that can't be removed from the room. It's also a good idea to cover your electrical outlets with painter's tape. Since you will be wetting the walls, shut off the power to that room or part of the house while you're working.
Finally, remove all of your art, décor, and other items like TV wall mounts because the walls need to be clear for full removal.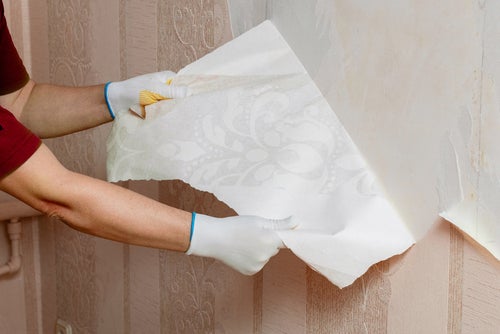 Step 2: Peel off the paper.
Now for the fun part: scraping all that old paper off! If it's easy-to-remove wallpaper, you should be able to use a putty knife to slowly peel it off, moving from one corner to the opposite bottom corner. After peeling the paper, the backing will be left. Move on to the next step to remove the backing.
If you are removing wallpaper that was attached with an adhesive, be prepared for a more challenging task. Carefully scrape up a corner with your putty knife, then start pulling. Follow this step and the remaining steps for removing a wallpaper border; just remember that you'll need a ladder.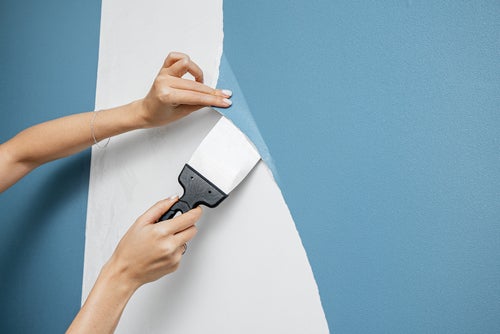 Grab your liquid wallpaper remover. If it's a concentrate, follow the directions carefully and mix it. Then, apply the remover to the wallpaper and use your wallpaper removal tool to scrape it off. Work in small sections and saturate each area thoroughly. The remover may take a few minutes to work, so soak the next section while you're working. Make sure you use light pressure when using the tool and remove the wallpaper slowly so you don't have to patch the drywall.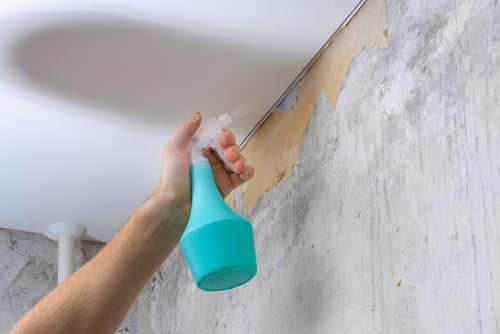 Step 4: Clean off the leftover glue.
Now that the paper is off the walls, it's time to scrub them to remove the excess glue.
Mix warm water, dish soap, white vinegar, and a little baking soda. Then, soak your sponge and start scrubbing. Use your putty knife to remove any extra tough spots. You may also want to keep your wallpaper stripper handy in case there is some glue that won't come off.
Let the walls air out for the rest of the day. This will help ensure they're dry before painting or applying new wallpaper (and give your arms time to recover).
When the walls are completely dry, you're ready to paint and decorate. If you decide to put up more wallpaper, do yourself or the next owners of your home a favor—use peel-and-stick removable wallpaper.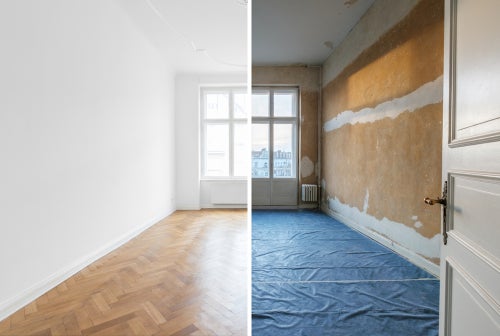 Whether you are taking on a living room makeover or simply want to decorate your blank walls, adding wallpaper can be a stylish addition. Though, it's important to learn how to remove wallpaper when it comes time to give your space a fresh look.
AHS assumes no responsibility, and specifically disclaims all liability, for your use of any and all information contained herein.