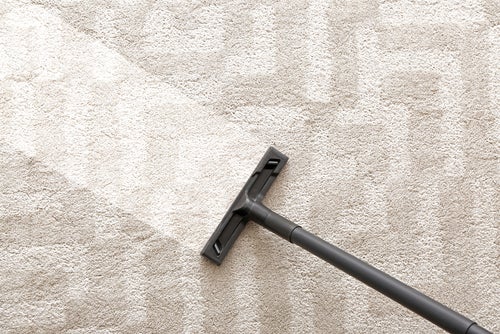 Carpet is a warm and comforting addition to any home, but to keep it cozy and clean, it's important to maintain it. Taking the time to clean your carpets can help reduce the amount of germs, dust, and dander and can even help to improve symptoms of seasonal allergies.
While you can use carpet cleaning services from American Home Shield ProConnect®*, our sister company that offers on-demand services, how do you clean carpet by yourself between professional cleanings? We'll take you through the steps for how to clean carpet.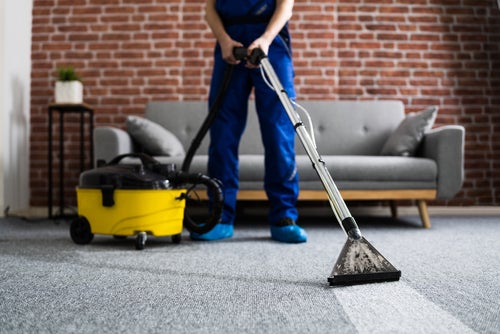 Select your cleaning tools.
Before you begin, make sure you'll have all the items to clean, so you're ready to go. Here are the tools you may need:
A carpet steamer. A steamer will be the easiest way to get the job done quickly and efficiently. You can rent one at most hardware stores, but you may want to invest in your own if your home has wall-to-wall carpeting in most rooms. You can purchase a quality machine for under $200 at many stores. A carpet steamer is beneficial because it kills germs. In fact, steamers often do a better job than carpet shampooers. Look for a steam cleaner that gives you the option to either use cleanser or go without. You may need to use a cleanser to help lift and remove tough stains.
Carpet cleanser. Look for a solution that cleans, deodorizes, and is compatible with your carpet. If you have pets, you can purchase a cleanser that contains special enzymes that neutralize urine and feces. Read the label carefully and ensure the solution you choose can also be used for spot cleaning.
An extra pair of hands. One of the best tips for how to deep clean carpet is to get everything you can out of the room. Ask friends or family members to help you move furniture out of the space so you can get a deep clean in every spot. Bribe them with pizza or promise to help them when it's time to clean their carpets!
Plastic wrap or sheeting. Items like a heavy wood armoire or bed frame may be too difficult to move. If that's the case, protecting the wood from the steam is important. Wrap the legs and bottom half of the furniture with protective plastic to avoid damage.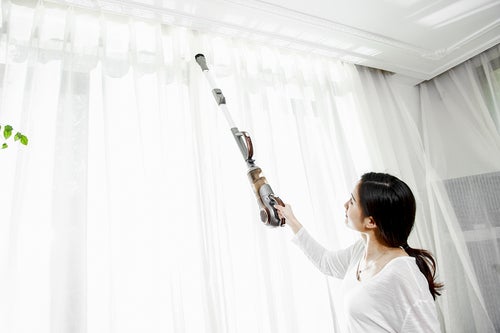 Vacuum and dust.
Removing dust and debris with a powerful vacuum cleaner will allow the cleanser and steam to penetrate even deeper into your carpet.
Run your vacuum over the entire carpeted area a few times, making sure loose debris is removed.
Use the vacuum attachments in every crevice.
While you're in cleaning mode, you can use those attachments to clean your windowsills and overhead fixtures thoroughly. That way, most of the dust will be removed from the room.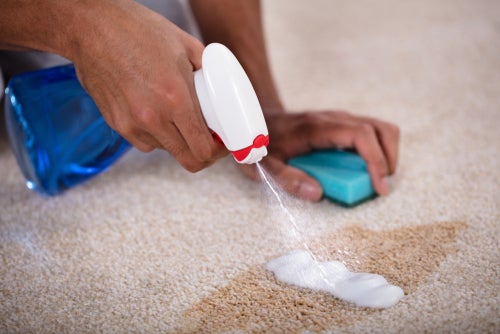 Spot clean.
Once you've removed all the furniture, it will be much easier to notice stains. Use your cleanser to spot clean the areas (read the instructions on the label for proper use), then dab the stain with a towel. Spot cleaning will help the stain lift completely when you use the steamer.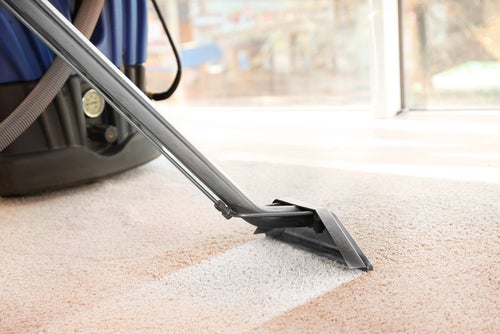 Now it's time to steam.
Deep cleaning your carpet with a steamer is a lot like mowing your lawn—seeing those nice and neat lines in your carpet as you work can be very satisfying.
First, mix the cleaning solution per the instructions on both the machine and the cleanser label. Add it to the steamer and wait for the appliance's temperature to reach the appropriate number noted on the instructions. Then, steam slowly, moving from one corner of the room to the other. Keep your movements smooth and even and cover every section.
Make sure your carpets are completely dry.
If you can, allow the carpet to dry for a full day before moving back in your furniture. Any moisture can cause mold and bacteria to develop. You can place fans in the room's entrances to help the drying process.
After your carpets are dry, run the vacuum over the area again to remove any dust or dirt that may have stuck to the wet carpet while it was drying. Now you can move back your furniture and feel comfortable sinking your toes into your newly cleaned carpet.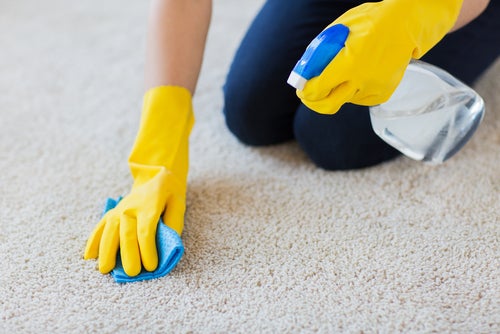 How to Spot-Clean Spills Before They Turn into Stains
When spills happen, it's best to clean them fast and efficiently before they set in. Here are some tips on how to clean carpet stains right when they happen. Always test a cleaning method in an inconspicuous spot before applying it to a large area of your carpet.
Carpet issue: Red wine
Club soda can help get red wine stains out of your carpet. Blot as much of the stain as you can. Then, cover the stain with club soda and blot again. Repeat this process until the stain has vanished.
Carpet issue: Dried nail polish
Applying hair spray and rubbing alcohol is one of the best solutions for removing dried nail polish from your carpet. Soak the spot in cold water, then spray liberally with hair spray. Splash a small amount of rubbing alcohol on the stain, then scrub with a cleaning brush. Add more cold water as needed to get out the stain.
Carpet issue: Lingering odors
Do you have lingering odors coming from one area of your carpet? Sprinkle baking soda on your carpet at night before you go to bed, then vacuum it up in the morning. If the smell is particularly pungent, you can let the baking soda sit for 24 hours.
Carpet issue: Miscellaneous stains
When all else fails, take care of miscellaneous stains with a solution of white vinegar and baking soda. Dilute the vinegar with a little water, pour over the stain, then sprinkle with baking soda. The resulting bubbles will help work the stain out. Let the solution sit overnight, then vacuum the next morning.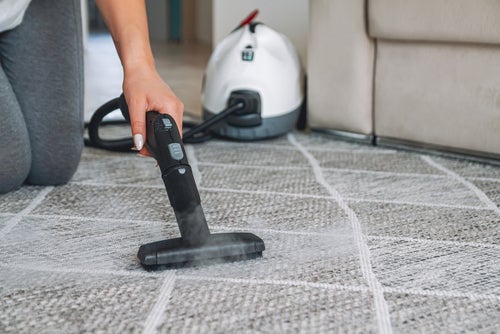 Proper care and maintenance are important for keeping your carpet in great shape. You can always schedule a carpet cleaning service with ProConnect®. ProConnect technicians know how to clean carpet so it will last for years to come.
To take care of other major items in your home, consider getting a home warranty from American Home Shield. Explore our home warranty plans to find the best one for your budget and your household.
*ProConnect services are offered by ProConnect Home Solutions, Inc. and vary by location. Please see the ProConnect website to see if carpet cleaning services are available in your zipcode.