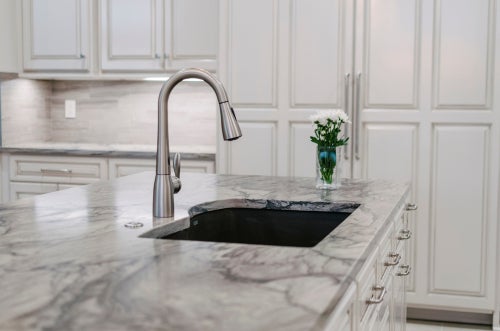 Have you dreamed of installing quartz countertops in your kitchen? While it is one of the pricier options for countertop materials, the investment is often worth it to get your preferred look and style. Here are a few reasons to choose quartz:
It offers the beautiful natural look of granite, but it's a much harder material and easier to clean.

It's less porous than other materials and resistant to staining.

It is one of the best materials for bathroom countertops and kitchen countertops because it's much more resistant to bacteria.

Because it is a manufactured material, quartz will have fewer flaws and more color options.
Learn more about the pros and cons of types of kitchen countertops. Once you make the investment, quartz can last for decades—as long as it's properly cared for. American Home Shield® can help you learn the ins and outs of cleaning quartz countertops, including some maintenance tips that will help keep your quartz flawless for years to come.
The

Best Way to Clean Quartz Countertops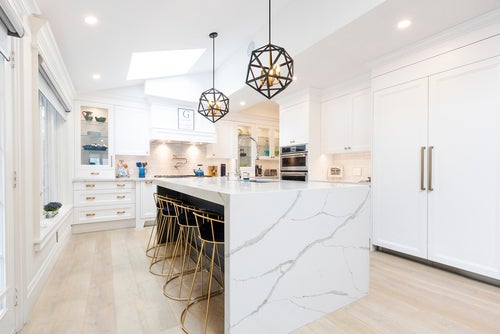 While quartz isn't as complicated to clean as porous granite, you still want to make sure you're using appropriate cleansers and tools on its surface to prevent bacteria and mold or mildew buildup in the kitchen.
Use gentle products for everyday use.
A soft cloth and a gentle cleanser are usually enough for normal, everyday care of quartz countertops. Remember that the hard surface of quartz makes it naturally bacteria-resistant, so harsh cleaners aren't typically needed. You should never use bleach—or cleansers that contain bleach—on your quartz countertops because it can cause damage.
Certain tools can gently scrape away dried food or other hard-to-clean substances.
First, try something soft, like a cast iron pan scraper, to remove the dried food or hard substance. If that doesn't work, use a putty knife and apply as little pressure as possible. If neither of these tools works, try the sharp edge of a razor blade. Just remember, scratch resistant doesn't mean scratchproof.
Invest in a quality degreaser that is formulated for quartz material.
As much as you try to keep your countertops clean, sometimes all it takes is cooking a juicy burger or some delicious bacon to cause grease to splatter. Luckily, quartz degreasers were created for exactly this purpose. You can also find cleaners and degreasers that protect your quartz from UV rays, which is great for a sunny kitchen with many windows or patio doors. This can help protect your quartz from yellowing due to sun exposure.
Finally, you may be wondering how to clean quartz countertops with vinegar. However, vinegar is acidic, and over time, it can damage the quartz material. It's best to avoid using it in storebought or homemade cleaners.
How to Clean Quartz Countertop Stains
Stain resistance is one of the greatest features of quartz. However, stains can still happen, especially with vibrant hues from items like beets or red wine. If something does spill, one of the best ways to prevent staining is by cleaning it up as soon as possible.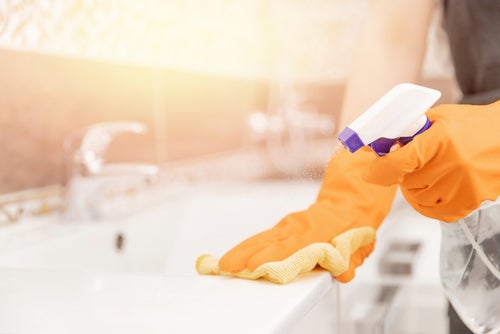 However, if a stain does settle into your quartz countertop, you have some options:
Glass cleaner. Glass cleaner can help remove stains and clean your quartz countertops without leaving streaks. For stubborn stains, let the solution sit for 5–10 minutes. Then, scrub the area with a nonabrasive sponge.

Isopropyl alcohol. Splash some rubbing alcohol on your cleaning sponge and then blot the stain until it's gone. Then, rinse the area with water.
Goo Gone. Is there anything this miracle cleaner can't do? Goo Gone is typically used for adhesive removal, but it may help with quartz stains, too. Apply it directly to the stain, let it sit for five minutes, and then wipe it away. Rinse thoroughly with water afterward.
Before using any of these stain removal techniques, it's a good practice to spot-test the product on a part of your countertop that isn't easily visible—this is a good practice for general kitchen cleaning. You may also want to consider calling the manufacturer for tips on taking care of quartz countertops, as some product warranties are only valid with proper care.
Cleaning Different Colors of Quartz Countertops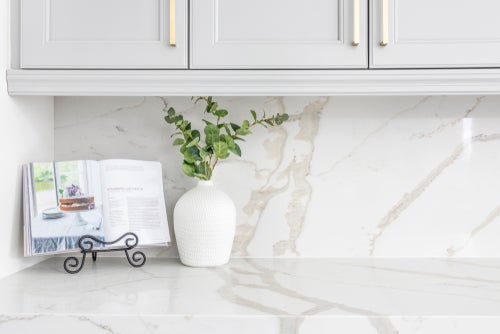 Typically, the process for how to clean white quartz countertops is the same as colored quartz. Like any other type of quartz, you should avoid
bleach;

gritty, abrasive products; and

alkaline cleansers like baking soda.
Black quartz is a nice alternative to lighter colors because you won't be able to see stains, dirt, or dust as easily. However, you'll still want to wipe down the countertop frequently to maintain its beautiful shine.
Now that you understand how to clean quartz countertops, it's important to remember that taking care of and maintaining other elements in your kitchen is importantnecessary, too. American Home Shield® appliance coverage can help with the cost to repair or replace the major parts and components of covered items, like your dishwasher, refrigerator, and oven, when they malfunction due to everyday wear and tear. With a home warranty, you can have peace of mind that the hardworking systems and appliances in your home are covered. Check out our pricing and plans and choose the one that works best for your household.
See the plan contract for coverage details, including service fees, limitations and exclusions. Charges for non-covered items may apply.   
AHS assumes no responsibility, and specifically disclaims all liability, for your use of any and all information contained herein.