Carpet is a household luxury—you can skip the socks or slippers and snuggle your toes in the soft, warm shag instead. It's also a great way to soften a room and muffle noises from different floors of the house.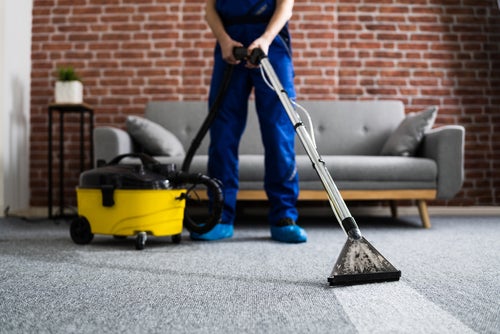 The only downside to having carpet is the upkeep. Liquids and stains can be more difficult to remove from carpet than from hardwood, tile, or vinyl floors. Carpet also tends to collect bacteria, dust, and crumbs due to everyday use and traffic.
Enjoy your carpeting without worry with these tips on carpet maintenance. Learn how often you should clean your carpet as well as how to perform routine maintenance.
Tip 1: Consider your household and lifestyle.
Think about your lifestyle when you're wondering, "How often should carpets be cleaned?" Getting your carpets cleaned once a year might be fine for a single-person household, but a busy home may need more frequent carpet cleanings.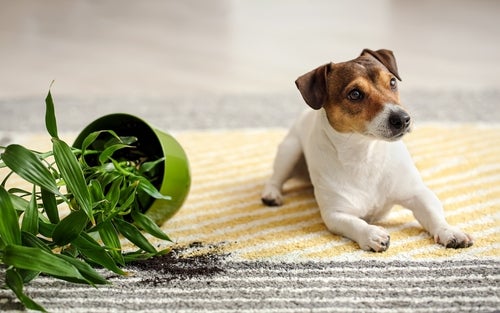 Here are some other things to consider:
Do you have pets? Fur, hair, dander, and dirt can settle into your carpets. If you have pets (especially those that go outside frequently), you may want to consider a professional carpet cleaning more than once a year.
Do you have children? If you have kids, your carpet may be full of snack crumbs, popsicle drips, and little bits of their meals that love to collect on their clothing. Routine carpet cleaning is a must.
Do you have roommates? Perhaps you live with a friend whose cleanliness expectations don't quite reach your own or a partner who works outdoors and brings mud, dirt, and other bits of nature in every day when they get home. Pair that with wearing shoes indoors, and carpet cleaning becomes a more-than-one-a-year necessity.
If any or all of these describe your living situation, your household is probably filled with laughter, warmth, and happiness. However, this could also mean your carpets are filled with dirt. You may want to consider getting your carpets cleaned professionally more frequently.
Tip 2: Extend the length between cleanings with a

DIY carpet clean

and frequent vacuuming.
On average, you should vacuum your floors once a week. However, high-traffic areas of the house should be vacuumed at least twice a week. In addition to weekly vacuuming, you may also want to invest in or rent a carpet cleaner from your local hardware store. These devices can be surprisingly affordable and help disinfect your carpet between professional carpet cleanings.
Learn how to clean your carpet with our step-by-step guide.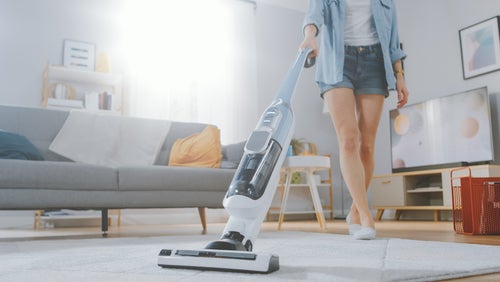 Tip 3:

Consider professional cleanings every season i

f you or your loved ones have allergies.
You would be surprised by how much pollen and dander can build up throughout the year. Opening windows in the summer and spring lets in the seasonal allergens, while keeping windows closed in the winter locks them all inside. The constant running of your HVAC system can also add dust to the air, which floats down into your carpet. All of this can aggravate people with allergies.
Getting your carpets cleaned professionally after every season can give your carpet a fresh start and keep the sneezing at bay.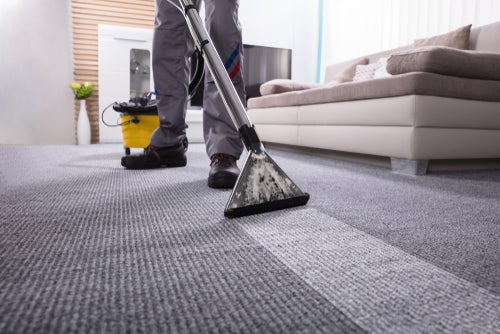 Tip 4: Use

ProConnect

for professional carpet cleaning.
Cleaning carpets yourself can be an easy task. However, there are factors that can harm your carpet, such as how much solution you use or the condition of the machine. Scheduling professional carpet cleaning through our sister company American Home Shield ProConnect®, which specializes in on-demand maintenance services, is the best way to ensure your carpets are in good hands.
When you schedule service through ProConnect, you'll get a vetted technician who is trained in the type of service you need. They know how to treat your carpets for the best results—and our ProConnect prices come with our Low Price Guarantee.
Offered by ProConnect Home Solutions, Inc.
AHS assumes no responsibility, and specifically disclaims all liability, for your use of any and all information contained herein.