This year don't let spring cleaning take the spring out of your step. With a few pointers and a fast and effective spring-cleaning checklist, we can show you how to knock out each room in about 10 minutes each. So turn up the jams, grab your cleaning supplies, and let American Home Shield® help you get started.
1. Start with spring cleaning the bedrooms.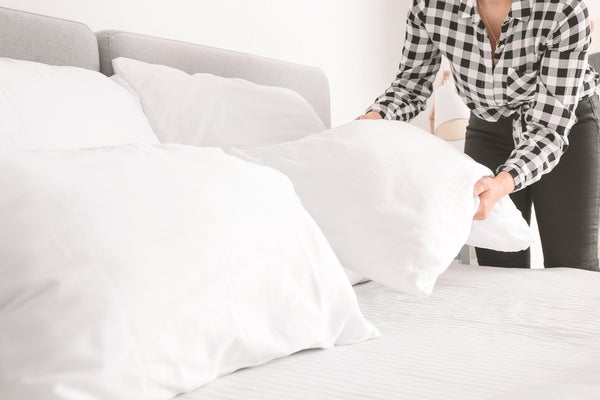 Technically, you can start in any room you like, but a good spring-cleaning tip is to strip off all of the bedding and throw it right in the washing machine. That way, the sheets should be finished around the same time you've finished cleaning.
Make the beds. After putting the sheets in the washer, grab fresh linens and remake the beds. (If you only have one set of sheets for each bed, or you're washing any mattress covers, you could always remake the beds after everything is clean and dry.)
Look for clothing that's out of place. Bad news: it's time to tackle "the chair" (you know which one we're talking about). If you have a chair in your bedroom, chances are it's not for sitting in. It's a clothing purgatory for items you tried on and didn't feel like hanging up or pants you wore just once and may never wear again.
Sort through the items and figure out which ones can be hung up and which ones need laundering. After the chair is tidy, pick up any other clothing that's on the floor or belongs in another room or closet. Sort it accordingly.
Get rid of dishes and trash. Now's the time to find all of the cups and random silverware you've been missing due to breakfasts-in-bed from weekends past.
Gather all of the dishes from each room and put them in the kitchen sink or dishwasher. Then, take a garbage bag and get rid of any trash that has piled up in all of the rooms.
Put items where they belong. If there are items in the bedrooms that don't belong, take them to their proper home. If you have a two-story house, you may want to utilize baskets for each room, to avoid running up and down the stairs countless times.
Clean the windows and dust. Scrubbing your windows should be at the top of your spring clean list, so all of the beautiful sunlight can come pouring in! If it's a nice day, open them wide after you're finished cleaning them so that the fresh air can chase away the thick winter gloom. Repeat this step for all rooms.
Dust. Next up is dusting. Make sure you pick up décor pieces from dressers and nightstands and dust and wipe down or polish the furniture. Don't forget the corner cobwebs and air vents. After the dust is gone, now it's time to vacuum and sweep. Then, take a minute to breathe in the heavenly smell of furniture polish and fresh air. A fresh scent is one of the best parts of home spring cleaning.
2. Time to hit the living room.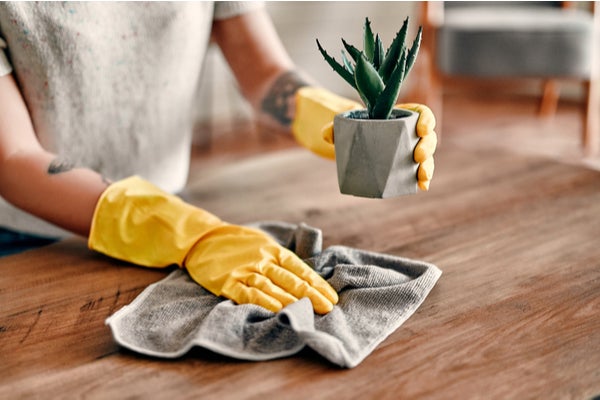 First, as with the bedrooms, get rid of what doesn't belong in this space—whether it's last night's popcorn bowl or next week's work project, put it in its proper place. Now you have some area cleared to do quick and easy dusting. Ceilings, walls, picture frames, and plants should all get some TLC. After dusting is complete, vacuum.
3. Tackle the dining room.
Dusting is also the game-changer in the dining room. However, the big difference is that there is a dining table and chairs to deal with, too. After dusting, decide whether now is the time to oil or wax the table. If your chairs have upholstered seats, simply spot clean where needed. Done and done and ready to dine.
4. Tend to the kitchen.
No spring-cleaning day is complete without tending to the kitchen. As one of the most-used rooms in the house, the kitchen tends to get cluttered and grimy fast. Depending on the state of your kitchen, this room may take more than 10 minutes to clean.
First, clean the dishwasher. Don't forget to locate the filter and give it a good rinse. Then, load the dishes from the sink and turn the dishwasher on if it's full. After that, it's time to clean your oven, stovetop, and oven range filter.

Now, it's time for the fridge. Start by taking everything out, checking the expiration dates along the way. Then, let the scrubbing commence. We have tips on effective ways to deep clean your refrigerator.

If you want to tackle your pantry next, feel free, but since you're cleaning your entire home, don't feel like you need to be a hero. You can add the pantry and cupboards to your cleaning checklist for another day.

Finally, dust the ceiling and cabinets. Then, scrub the countertops and sink, wipe down any small appliances, and sweep and mop the floor.
Congrats! One of the most challenging rooms on your spring-cleaning list is complete.
5. Freshen up the laundry room.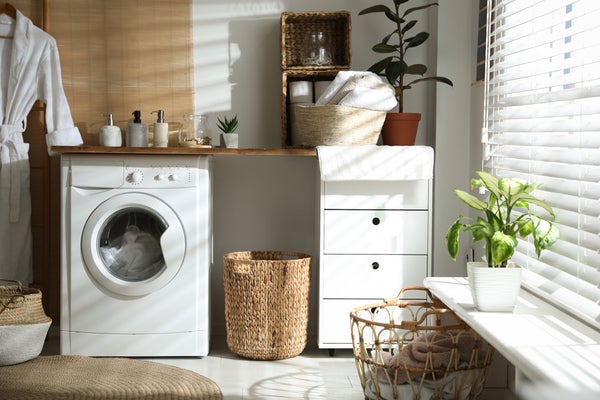 First, check if your bedding is done in the washer and/or dryer. If so, fold the sheets and put them away, or set them aside so you can make the beds after cleaning. Wipe down the washer and dryer's exteriors, put away any laundry supplies that are out of place, then sweep and mop.
It's a good idea to perform monthly maintenance and cleaning of your washer and dryer. Doing so will help your machines perform at maximum capacity, reduce the risk of fires, and keep your clothes smelling fresh. A home warranty can protect your budget if your appliances and home systems fail due to wear and tear. Take a look at pricing and plans today.
6. Clean the bathrooms.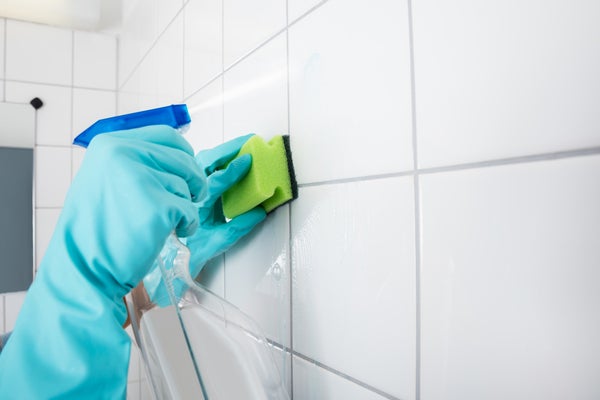 Cleaning the bathroom isn't the most fun step for spring cleaning, but it needs to be done. Here are some spring cleaning ideas for the bathroom:
Throw dirty towels in the hamper and replace them with fresh ones.

Remove the trash and clean out the basket, if needed.

Wipe down the mirror, sink, and vanity.

Wipe inside and outside of the cabinets.

Scour and rinse the bathtub and tiles.

Scrub inside and outside of the toilet.

Mop the floor and wipe down the baseboards.
Repeat this step for each bathroom. When you're finished, take a shower, or better yet, light a candle and treat yourself to a long, relaxing bubble bath. Your successful spring-cleaning day is over—you've earned it.
By dedicating about 10 minutes per room, your house can be spruced up and ready for spring. For more spring cleaning tips, check out the spring maintenance checklist by region and energy-saving tips for spring.