Have a cordless drill handy? Here are some common DIY projects that can help you put it to good use.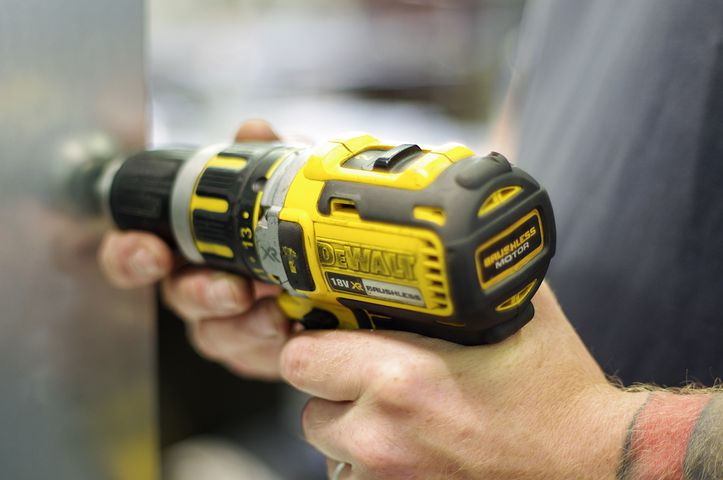 A cordless drill is one of the most versatile and useful tools you can own. They're essential for most woodworking chores, and they allow you to work anywhere without worrying about extension cords or power outlets. You can combine them with hole saws to install plumbing, draining and ventilation pipes. You can use them to drive screwdrivers, and you can even use them to plant flower bulbs! Here are some fun DIY projects that will help you put it to good use.
Install a Coat Rack
Does your family have a place to hang coats and jackets? Installing a coat rack on your wall is the perfect job for cordless drill.
You can go out and buy a hanging coat rack or coat hooks, or you could easily build one yourself. If you're looking to save money or create a unique piece for your home, you can use anything with a hook-like shape to create a place to hang coats. Old doorknobs, drawer knobs, railroad ties, c-clamps, railroad spikes and screwdrivers can all be fashioned into a coat rack. Stain a nice piece of lumber and use your drill to attach your hooks to the wood, then fasten it to the wall with longer screws, making sure to sink them into the studs so your coat rack can support a little weight. Or, you can fasten your hooks directly to the wall using molly bolts.
Turn that Old Door into a Table
Do you have a beautiful old door stashed in the eaves of your garage or in your attic? You might not even know you do — a previous homeowner may have removed it from its hinges and hung it there. If you don't have one, you can pick one up at an architectural salvage yard. Use your drill to attach four legs, and presto! You have a beautiful statement piece for your home.
Build a Bookshelf
If you're a reader, you already know that you can't have too many bookshelves. Even if you keep all of your books on your ereader or tablet, a bookshelf still gives you a place to display trinkets and photographs, potted plants, and other decorative items. If you have cats, shelves give them a place to climb.
Hanging a bookshelf is fairly easy. The main things to remember are to make sure the shelf is level (use a two-foot level for small shelves and a four-foot level for larger shelves) and to make sure it is anchored on the studs. Books and knick knacks can get heavy, and you don't want them to fall off the wall and get damaged or hurt someone. Use a stud finder to locate your studs and drill into them with your drill.
As for the bookshelf material itself, you can buy floating shelves or recycle old wood you have on hand. Hang an antique ladder sideways on the wall for a fun, unique, and easy bookshelf. With some lumber, wood stain and downloaded building plans, you can build a beautiful freestanding bookshelf big enough to hold your whole library.
Plant Bulbs
It's just about time to put bulbs in the ground for spring flowers, and you can do it so much faster and more easily with a cordless drill. All you need is a planting auger. This larger, spiral drill bit allows you to dig appropriately sized holes for most flower bulbs. Since most flower bulbs are fairly small and many need to be buried as far as six inches deep, using a planting auger can save you a lot of time compared to a traditional bulb-planter or shovel — and it can save your back, too.
Create a Plant Stand
If you're just dipping your toes into the world of DIY woodworking, a plant stand is a great first project. The stakes aren't too high if you screw it up, and it's fairly easy to create a plant stand or hanging plant holder with scrap wood you may have lying around. Drill holes into a small piece of plywood or a short length of plank and thread rope through for a trendy, hanging plant shelf/holder. Or cut pieces of scrap wood and screw them together for a plant stand you can place on the floor or in your flower bed. There are plenty of ideas online, and with a little paint or stain, you can make your homemade plant stand look like something you picked up at Target.
For many woodworkers, their cordless drill is their favorite tool. Once you've used yours a few times, you'll understand why. Subscribe to our newsletter for more DIY project ideas you can complete with your trusty drill, as well as your other common tools.
AHS assumes no responsibility, and specifically disclaims all liability, for your use of any and all information contained herein.