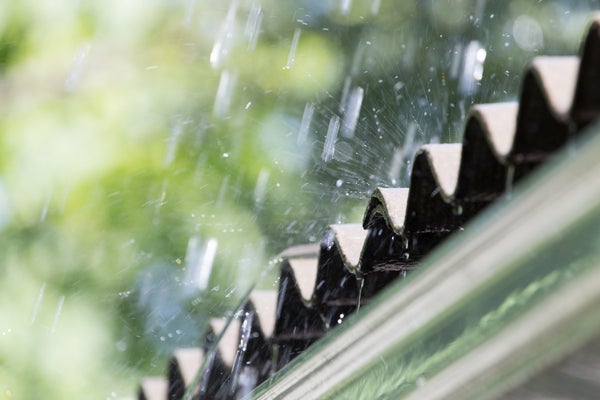 Every homeowner should know the steps they need to take to prepare for a flood and prevent damage from a flooded house. Flash floods can be caused by a variety of things: from heavy rains and spring snowmelt to hurricanes and other natural disasters. Floods can cause significant damage to a home, but if you know how to prepare for a flood beforehand, you may be able to prevent major house damage.
This flood preparedness guide explores why flood preparation is essential, how to prepare for a flood, and what you need to do during a flood.
Why Flood Prevention is Important
Flooding is a major problem and danger for homeowners, especially those living in a flood zone, near a major body of water, or in areas that experience hurricanes, like the Southeast. Floods can cause thousands of dollars in damage to a house, and flood insurance isn't always enough to cover flood repairs—and that's if your home insurance covers flood damage at all (hint: be sure to check your policy!). A flood can be devastating for your home, your budget, and your investment.
It's important to prepare as much as possible to reduce the amount of damage that a flood might cause to your home. Here's where to start:
Understand flood risks. Before you start preparing for a flood, understand how high a flood risk your home has and what you can do to prepare. Keep this under consideration if you're in the market for a new home. Are you willing to run the increased risk of buying a house in a flood zone?

Invest in flood insurance. Many homeowners insurance policies don't offer flood insurance in their standard plans. It's important to understand your flood risk while ​​buying insurance, especially if your house is in a flood zone. Talk to an insurance agent about what flood insurance options might be available to you.
How to Prepare for a Flood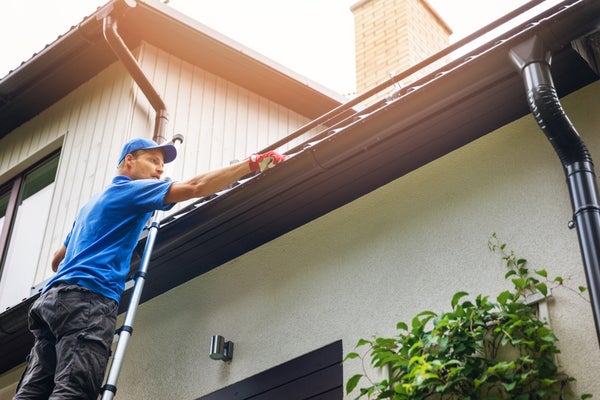 Here are some things you can do now to minimize flood damage to your house.
Build a flood wall. This isn't an easy flood prevention tactic, but it can be very effective. A flood wall can potentially prevent floodwaters from entering your home by rerouting the water flow. For this project, it might be helpful to hire an experienced contractor to make sure the flood wall is high enough and reliable.

Waterproof your flood-level basement. Try to keep electronics and wires elevated and off of the basement floor. Ensure that any cracks or seams that lead into your basement are patched or sealed with waterproof sealant to prevent a flooded basement.

Keep gutters and drains clear of debris. This allows rainwater to flow through your gutters away from your home instead of overloading or overflowing them. This reduces the likelihood of floodwater coming into contact with entrance points into your home. If flood water can't drain away from your house, flood damage becomes more likely.

Gather and store your valuables and important documents. This should include your important documentation such as photos, passports, identification cards, birth certificates, financial records (like tax returns), wills, home insurance details, contracts, medical records, and more. Basically, keep anything that would be difficult to obtain if it were lost or damaged in waterproof containers. Additionally, you should keep some "rainy day" cash at home in case ATMs and card readers are down after a flood. Finally, if you have a fair warning before a heavy rain or weather event, you should move any valuables or furniture you don't want to be ruined to the highest point in your home, like the attic or an upstairs bedroom.

Create an emergency kit. An easy-to-transport flood emergency kit should be readily available to grab and go if you need to evacuate your home during a flood. Some of the things you need in a flood kit include nonperishable food, drinking water, medicine, a flashlight, batteries, a whistle, and a weather radio that will allow you to stay tuned for any news and updates from the National Weather Service or emergency responders.

Create an evacuation plan. When floodwaters start to rise, the last thing you should be doing is trying to figure out what to do in the moment. You should have an evacuation plan ready to follow so that you and your family can know exactly what to do should you need to vacate your house during a flood. Create a predetermined escape route, with a backup exit route ready if floodwaters prevent you from leaving. Assuming you'll still be able to drive, you'll want to plan a route to get to higher ground while also designating an agreed-upon meeting point in case any family members are away from the house when a flood hits. Any supplies—such as your flood emergency kit—should be easy to carry in case you need to evacuate your vehicle along the way.
What to do During a Flood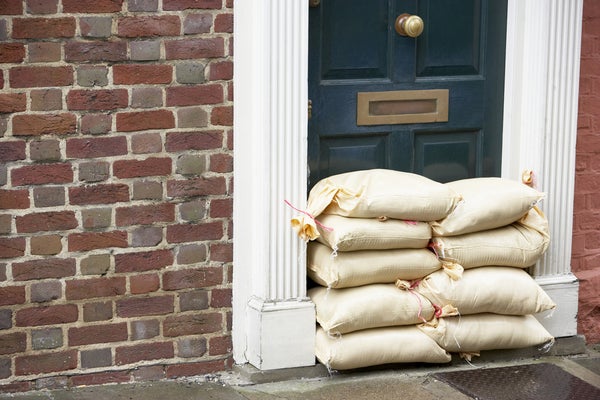 If time and flooding circumstances allow, there are important things to do during a flood to stay proactive in reducing the risk of damage to your house. Just make sure that you are out of harm's way while attempting any of these preventative ways to protect your home from flooding.
Block windows with plastic sheeting, plywood, or other materials. Doing so will help to prevent rain and floodwaters from entering your home. Just be sure to properly tape or seal the materials into place so that flood water can't get through.

Turn off gas, the main water line, and electricity to your house at the main power breaker. Turning off utilities during a flood should be done as early as possible. Doing so will reduce the risk of floodwater causing electrical or gas fires. Be extremely cautious, especially if you're working with electricity during a rainstorm.

Close flood control devices. Things like sump pumps and French drains should be closed during a flood. This will prevent floodwater from accumulating and seeping into your home.

Reinforce exterior doors with sandbags or waterproof materials. Create a barrier at entryways to block the flow of water and prevent a flooded house.

Do not drive through floodwaters. If you need to evacuate your home, avoid driving through floodwaters. Doing so can flood your vehicle and leave you stranded.

Follow instructions from emergency personnel. Stay tuned to your local news and weather services for word from emergency personnel on if you need to evacuate your home and where you should go (or where you should avoid going). Return home only if authorities indicate that it's safe.
Recovery from Flood Damage
No matter how well you were able to protect your house, you'll likely still have plenty of cleanup to do after a flood. When it's safe to reenter your home, you'll want to take stock of any appliances or in-home systems that were damaged to determine what might be covered under home insurance versus a home warranty.
Having both homeowners insurance and a home warranty is crucial, whether you live in the desert or have a house in a flood zone. An American Home Shield® home warranty covers what home insurance won't—inevitable breakdowns of home systems and appliances. Learn about what's covered under a home warranty and choose the plan that best fits your household.
Remember: Flood preparation is not only crucial for protecting your house, but it's also essential to keep you and your family safe.
AHS assumes no responsibility, and specifically disclaims all liability, for your use of any and all information contained herein.
AHS assumes no responsibility, and specifically disclaims all liability, for your use of any and all information contained herein.