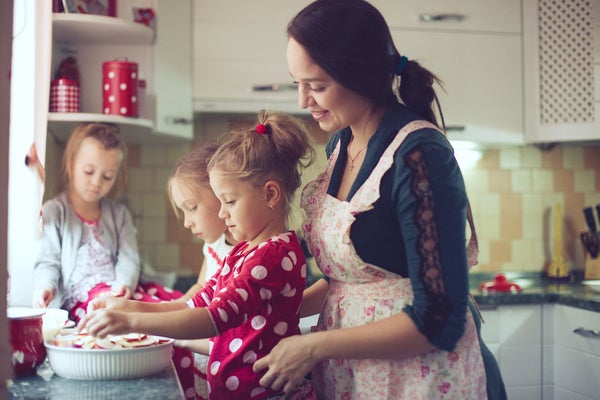 The holidays are for spending time with loved ones and making memories, and baking is a great way to create new family traditions. We have rounded up two of our favorite holiday recipes that are sure to please, so we hope that you enjoy them as much as we do. Just turn on your favorite music, have some fun in the kitchen with your in-house baking team, and enjoy the finished product together!
"Go-To" Apple Cake
Ingredients:
¾ cup vegetable oil
1 cup sugar
2 eggs
2 tsp vanilla
½ cup chocolate chips
¾ cup chopped walnuts
2 cups flour
1 tsp baking soda
1 ½ tsp cinnamon
½ tsp salt
3 cups sliced apples (Granny Smith are the best)
Instructions:
Using a wooden spoon, mix vegetable oil, sugar, and eggs. Stir in vanilla, chocolate chips, and nuts. Fold in flour, baking soda, cinnamon, and salt. Mix well. Batter will be thick. Fold in apple slices and pour batter into greased and floured bundt pan. Bake 325 for 45 minutes or until golden brown.
Grandma's Cocoa Fudge
Ingredients:
2/3 cup Hershey's cocoa
3 cups sugar
1/8 tsp salt
1 ½ cups milk
¼ cup butter
1 tsp vanilla extract
Instructions:
Combine the cocoa, sugar and salt in a large saucepan. Add the milk gradually, mixing thoroughly. Bring the mixture to a bubbly boil on high heat, stirring continuously. Reduce the heat to medium and continue to boil the mixture without stirring until it reaches 232-degrees F. Remove saucepan from the heat and add the butter and vanilla. DO NOT STIR. Allow the fudge to cool at room temperature until it reaches 110-degrees F. Beat by hand or with hand mixer until the fudge thickens and loses its gloss. Quickly pour the fudge into a greased 8x8x2" pan. Cool it in the fridge.
Holiday Cooking and Entertaining
The last thing any homeowner wants to deal with during the holidays is a broken home system or appliance. Home warranty coverage for your heating and cooling, electrical, and plumbing systems and kitchen and laundry appliances makes hosting feel like a holiday. With three plans to choose from, you can pick the plan that's right for you and your home's needs. No matter which plan you choose, you'll get comprehensive coverage on the things that matter most. When a covered item breaks down, we'll provide you with a qualified, vetted contractor to repair the item, and if we can't repair it, we'll replace it. That's how you put a home warranty to work and enjoy the holiday season!
AHS assumes no responsibility, and specifically disclaims all liability, for your use of any and all information contained herein.