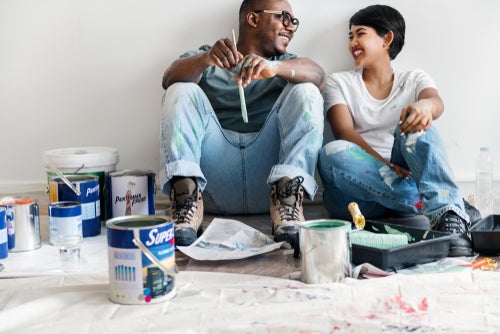 It used to be that those seeking to improve their homes through DIY improvement either had to head to the library or call up their friend's cousin's roommate—you know, the home improvement whiz. Thankfully, modern technology has made it so that, today, expert DIY advice is right in your pocket.
However, the plethora of options we now have access to comes at the risk of over-saturation. With so many wonderful home DIY content creators out there, it's hard to know which ones are worth the watch.
We did the work, so you don't have to. Here's our list of the top 12 DIY influencers on three major platforms in the home improvement space: YouTube, TikTok, and Instagram.
The Best DIY YouTube Channels
DIY YouTube channels offer a rabbit hole of renovation advice, long-form how-to videos, and educational guides about home improvement. Here are the best DIY channels on YouTube.
If you want long-form educational home improvement videos on various subjects—from planning and constructing an outdoor deck to overhauling your kitchen—Jeff at Home RenoVision DIY is the guy for you. Beyond his decades of expertise and technical know-how, the founder of Home RenoVision DIY has a personable, down-to-earth demeanor, which can be very comforting and reassuring for DIY-ers just getting started.
With no formal training, Alex of Mr. Build It is just like his viewers—except that he's done so many successful home improvement projects that it's probably okay to go ahead and call him a professional. Mr. Build--It's style is less "step-by-step guide" and more teaching through experience, with projects ranging from installing a freestanding soaker tub to building a custom gaming desk and mudroom storage cabinets.
The self-proclaimed "only DIY home improvement channel where a woman provides professional instruction," See Jane Drill offers empowerment in plumbing and electrical repairs and other home fixes. The channel's founder, Leah, worked in construction for more than 20 years before delving into the DIY creator space—and to great success. Her video on tape measure tricks has garnered more than 18.5 million views alone. Seeing Jane Drill's videos are great if you know that something in your home needs improvement, but you don't know exactly what project you want to take on or how to fix an issue.
Jon and Sherry Petersik mix home renovation advice with relationship insights on their renovation YouTube channel. With experience renovating seven homes, they're experts you can trust. Their playlists are categorized by house tours, DIYs and how-tos, and specific home renovations. For example, view a house tour of their Airbnb in Tulum, Mexico, or check out tips on how to install hidden hinges on old cabinets.
The Best DIY TikTok Channels
TikTok's short-form video content means that its DIY influencers provide less in-depth educational guides than their YouTube counterparts. But the platform's focus on aesthetics means you'll find visually appealing home renovation inspiration in short, digestible formats. Here are the best TikTok DIY creators.
The bensondwelling team has acquired more than 800,000 likes on their DIY "high design" home improvement and furniture revamp page. The team leans more toward aesthetics, interior design, and lifestyle than full home renovation. Their videos on redoing an AirBnB bedroom and building an arched cane cabinet are to "DIY for."
Everything Eryn is the perfect account to follow if you enjoy organization, product tips, and, of course, home DIY content. From the best kitchen purchases on Amazon to how to make homemade curtains or a greenery wall, there is no shortage of fantastic tips from this TikTok influencer.
This account walks viewers through the process of renovating a guest house into a complete family home. If you're like the account's more than 300,000 followers looking for inspiration on house-flipping, tiny home construction and improvement, painting, or floor plans, you'll find a lot to work with here.
While they made their name on YouTube, Canadian creators of The Sorry Girls, Becky Wright and Kelsey MacDermaid, offer quick time-saving tips on their TikTok channel about topics like DIY home improvement, sustainability, and all things décor and interior design. The team provides a mix of entertaining and educational content, like styling shelves, mason jar hacks, and upcycling for home improvement.
The Best DIY Instagram Channels
DIY Instagram influencers are many and varied, but our favorites combine the best home remodels Instagram has to offer with fun, engaging insights into content creators' lives. Here are some of the best house DIY Instagram influences.
With appealing pastel visuals, fabulous before-and-after images, and sassy commentary, the Mr. Kate Instagram account is the perfect mix of helpful design tips and information with a dose of fun. Join the eponymous Mr. Kate and her husband @joeyzehr as they make over their dream island home.
DIY content creators Kim and Scott are all about renovating old houses in a way that keeps their quirkiness but connects them to contemporary times. Their Instagram videos include kitchen renovations, bunk bed builds, and family-friendly building guides (don't miss the pink and purple unicorn big-kid bedrooms).
For design lovers interested in nontraditional building conversions, Vintage Revivals is the perfect place to stop in your Instagram scroll. Mandi Gubler lets you follow along as she converts a 1928 mercantile store into her family home. A self-proclaimed "fearless DIYer," Gubler highlights big projects like making an indoor living wall and repairing and leveling concrete to smaller, everyday projects like creating a drip tray for indoor plants and cutting tiles.
Alex at @realiferenovation provides a fresh, lighthearted take on the DIY home improvement influencer world. What he lacks in professional experience, he makes up for in willingness to take on a challenge—he wants his viewers to learn along with him. Watch standalone Instagram videos on painting, lighting, and tiling techniques. If you enjoy seeing large projects from start to finish, check out Alex's video series on large-scale DIY projects, like finishing a basement or building built-in cabinets.
Pair your new-found knowledge of the best DIY creators with home renovation apps to create the perfect plan for whatever house project you're taking on. Check out other helpful apps for homeowners as well as DIY maintenance tips.
Going forward, protect your home by signing up for a home warranty plan from American Home Shield®. Whether you're taking on a historic home renovation or a small bathroom remodel, make sure your home's systems and appliances are covered with a home warranty. American Home Shield helps provide peace of mind and budget protection when the hardworking items in your home break down from normal wear and tear.