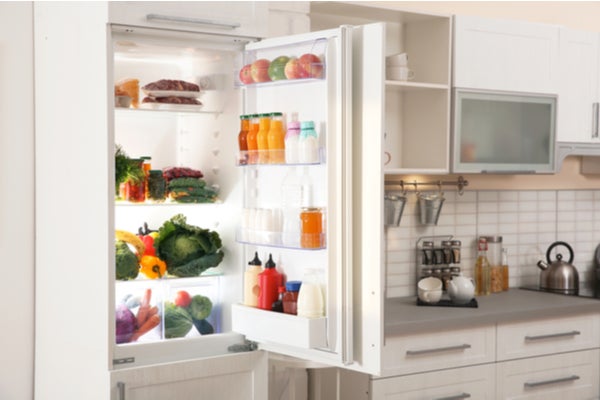 When you were young, power outages often meant running around with flashlights, having campouts in the living room, playing board games by lantern light, and making pillow forts in the living room to stay warm. While little ones may have the time of their lives during a power outage, you, the homeowner, are often stuck with worry. Keep calm with these tips on avoiding food spoilage during a power outage.
Keep in mind that if the electricity is off for an extended amount of time, you may have to throw out some of your food. However, you can take steps to prevent power outage refrigerator food spoilage. Here are some ways to preserve your groceries for as long as you can.
1. Get your coolers, freezers, and ice ready to go.
Sometimes power outages happen with no warning, which doesn't leave you with many options. However, if a storm is coming to your region and your home is prone to losing power, there are some precautions you can take.
Dig coolers out of storage. If the power goes out in the middle of the night, the last thing you need is to have to stumble into the basement or garage in the dark looking for your coolers. It's best to organize all of your supplies before the lights go out.

Freeze water. If you don't have time to prepare, you can always buy ice, but freezing gallons of water is your best bet. The gallons will help keep your freezer and coolers cold and provide drinking water if they melt. If you have a large freezer, you can also use bins to make giant ice cubes for your freezer and coolers.

Freeze as much as you can. According to the Foodsafety.gov food spoilage chart, a power outage lasting four hours or more can put your refrigerated items at risk. Contents in a full freezer, however, can last up to 48 hours. If you know a storm is coming, freeze as much as you can. You can even freeze perishables like eggs, milk, and butter. If you don't have enough food to fill your freezer, one that's half full will still keep food safe for 24 hours. Make sure you push all of your frozen food together—the cold will radiate and keep them icy for longer.
It's also a good idea to invest in thermometers for both your fridge and freezer, so you know the exact temperatures. If the refrigerator temperature goes above 40, you'll need to throw everything out.
2. Do everything you can to keep the cold in.
Opening the fridge or freezer during a power outage is not a good idea. Remember, the guidelines above are only accurate if the doors stay closed. To prevent food spoilage due to a power outage, keep the fridge and freezer off-limits. If a storm is coming, you may want to put food items you'll need in the coolers for easy access.
When evaluating food spoilage after a power outage, it's best to follow Foodsafety.gov's advice: "When in doubt, throw it out." Tossing out food can be devastating to our weekly meal plan budget and intentions to cut food waste, but the spoiled food in the fridge isn't worth getting sick.
3. File a claim with your homeowners insurance.
Make sure you take pictures before discarding any food and cleaning your refrigerator; you may be entitled to a power outage food spoilage reimbursement. According to Forbes, some homeowners insurance companies may pay up to $500 to replace your spoiled food. Power outage food spoilage insurance depends on your policy and the circumstances that led to the power outage. Check your policy or call your insurance agent to see if this benefit applies to you.
4. Keep your appliance in good shape.
Perform any necessary maintenance on your refrigerator and keep your freezer in great condition throughout the year to ensure that they're performing optimally. For example, if your freezer isn't freezing properly or your fridge is making a strange noise, diagnose and fix the issue before it becomes a bigger problem. The better they work, the safer your food will be during a power outage.
Having a home warranty from American Home Shield® can help with repairing or replacing these hardworking items if they break down due to wear and tear. With refrigerator warranty coverage, your ice machine, thermostat, and other important parts may be repaired or replaced if they aren't working. Check out our pricing and plans, and choose the best plan for your household.
Avoid food spoilage from a power outage with these helpful tips, so you can keep your family safe and have peace of mind if the electricity goes out in your home.
AHS assumes no responsibility, and specifically disclaims all liability, for your use of any and all information contained herein.