If you want to transform your space into the home of your dreams, you have probably done some preliminary research on interior designers and decorators. However, it's hard to know the difference between the two and which one you should choose.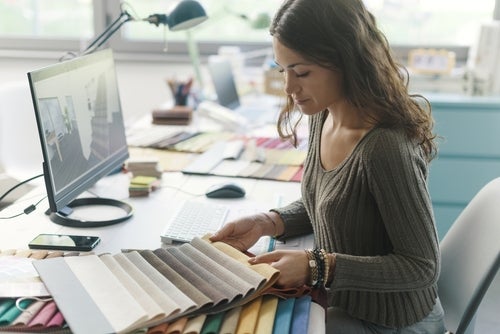 When it comes to making your home's interior as comfortable, functional, and aesthetically pleasing as possible, interior designers and interior decorators both help bring your vision to life. However, interior designers and interior decorators offer different services and skill sets.
American Home Shield® is here to help you learn the difference between an interior designer and a decorator and which one you should choose for different home projects.
What is an Interior Designer?
Those with careers in interior design use their artistic vision to plan and execute design for interior environments. They create spatial plans to design and renovate home interiors to be functional, code-compliant, and aesthetically pleasing. Interior designers might look at your home's interior and recommend that you move a wall to allow for more open space or build a cabinet to create more storage. They also find furnishings and fixtures to match a client's vision.
What is an Interior Decorator?
People hire interior decorators when they want to furnish and adorn a home's interior. Interior decorators keep up to date with home décor trends and work with clients to choose a style (for example, Art Deco, midcentury modern, or bohemian) and decorate the home accordingly.
Interior Design vs. Interior Decoration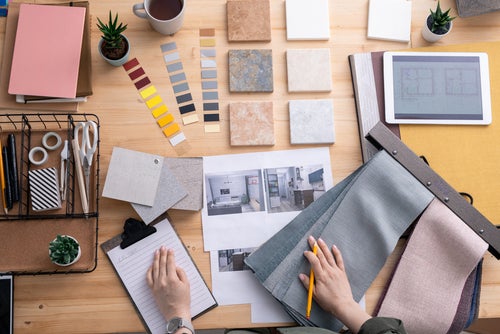 Aside from the conceptual differences, there are four main differences between an interior designer vs. an interior decorator.
Training Differences
Extensive education is required to become an interior designer, while interior decoration does not require any formal education.
Structural Versus Aesthetic Differences
While interior designers address structural changes in your home, interior decorators handle primarily aesthetic concerns. Interior designers help with the following changes:
Planning home interior renovations
Creating functional design plans
Making effective use of space
Arranging space layouts for technical considerations, such as sound quality and lighting
Working with architects, engineers, and contractors to ensure the home design is done effectively and efficiently
Adhering to building codes and ADA requirements
Refining construction documents and designs for aesthetic value and safety
If you don't need to make structural changes and are more interested in updating your décor, a home decorator can help with the following:
Deciding on complementary color schemes
Coordinating décor like furniture, rugs, lamps, bookcases, bedspreads, pillows, art, wallpaper, house plants, and flooring
Setting up lighting to the client's preference
Working with homeowners, painters, furniture makers, and upholsterers to acquire the best pieces
Depending on the project, you may want to hire both an interior designer and an interior decorator. Just remember that if your home needs structural work, it's a safe bet to hire an interior designer who can help plan out the space and make sure it meets your city's code requirements.
Timing Differences
Designers work with you in an ongoing capacity because their work often requires remodeling and managing contractors who will help complete the work. An interior decorator might spend only a few days consulting with you about your home's aesthetic needs, ordering the recommended décor and furniture items, and ensuring everything is delivered and installed properly.
Budgetary Differences
Because their work is more involved and labor-intensive, interior designers usually cost more than interior decorators.
Generally, if you think that you require a remodel for, say, your bathroom or kitchen, you should choose a bathroom designer or kitchen designer; and if you just want to spruce up the space, you should go with a bathroom decorator or kitchen decorator. If you are trying to remove or add any part of your home, go with an interior designer; you can always add an interior decorator to the team down the line.
What Should You Consider When Updating Your Home?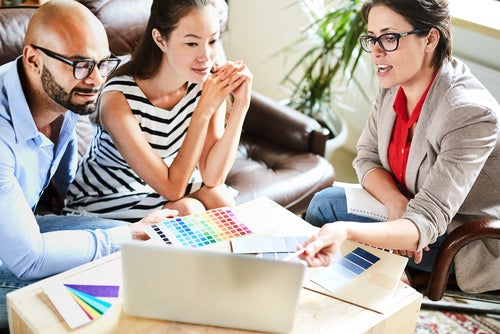 Communication
Whether you hire a home designer or a home decorator, they will be responsible for helping you to create your dream home. Be sure to choose someone who understands your vision and can bring it to life. They should ask questions about you, how you plan to live in your space, and your plans for the future. It's beneficial to ask for a consultation first, which may be free. Doing so will help you and the professional get on the same page about the project.
Aesthetic
Your home displays your interests, tastes, and passions, so you should choose a designer or decorator whose aesthetic matches your own or who has worked on similar projects.
Budget
Look for a designer or decorator who can make your money stretch the furthest but who doesn't skimp on quality. They should discuss your budget, expectations, financial situation, and any upkeep needed with you before starting on the project. Designers and decorators typically charge an hourly rate or a fixed sum for the project.
Timing
No matter if you're choosing between an interior designer vs. an interior decorator, make sure that the person provides a general idea of the scale of the project. For example, if you're in a rush for your bathroom remodel, you don't want to choose someone who needs to wait for their contractor to get back from vacation or who can only work on your project every couple of days.
Credentials
Read through reviews on sites like Google Reviews and Yelp, and make sure you choose someone who has worked on projects, homes, and styles that mesh well with your own. If you need to update your 1950s kitchen, has the kitchen designer participated in the process of an old home remodel before? If you're updating the color scheme in your family room, are they adept at living room makeovers? Be on the lookout for professionals with proven reputations and many images on their website, so you don't waste time or money with the wrong fit.
Final Thoughts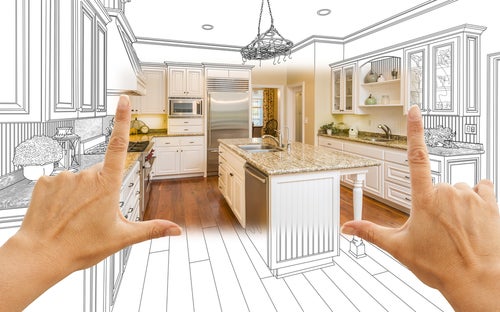 Now that you understand the differences between an interior designer and a decorator, you can start the process of updating your home to your liking.
No dream home is complete without a home warranty plan though. A home warranty from American Home Shield® provides coverage for parts of your home's 23 major systems and appliances. Our flexible pricing and plans allow you to choose the level of coverage that best fits your budget and household. Being an American Home Shield® member means having peace of mind that your finances are protected when your covered home systems and appliances break down due to normal wear and tear. Learn more about home warranties.