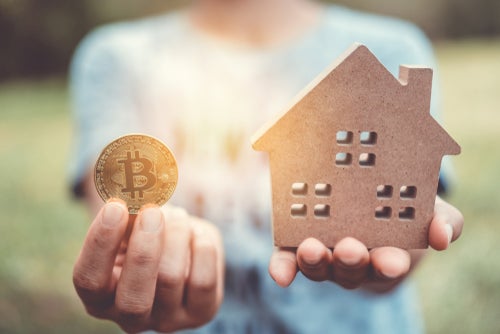 Crypto has been part of the cultural environment since Bitcoin's meteoric rise in 2017. From stocks to cars to tech, buying products and services with cryptocurrency has gone mainstream, sparking the question, "Can you buy a house with cryptocurrency?"
You may be surprised to learn that you can, indeed, buy property with cryptocurrency.
The History of Cryptocurrency and Real Estate
Only one year after Bitcoin went viral, the United States saw its first-ever crypto real estate transaction. A Vermont homeowner sold her home using Ethereum blockchain technology on the real estate platform Propy, a tech startup espousing "self-driving" real estate transactions.
Since then, numerous real estate transactions using cryptocurrencies, including Bitcoin, Ethereum, Litecoin, and even meme currency Dogecoin have taken place.
Why Are People Using Crypto in Real Estate Transactions?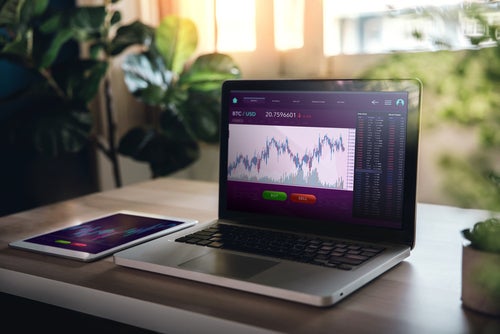 When you buy a home with crypto, you incur many benefits—including discounted prices, faster transactions, and stability—because you're not paying with a loan or cash.
Discounted prices: Since fewer intermediaries are needed for crypto transactions, many sellers offer discounted prices for their properties if the buyer pays with cryptocurrency.

Faster transactions: Buying real estate with crypto often means an expedited financial process due to digital, smart contracts and fewer mortgage hoops to jump through.
Using crypto to buy a house also means real estate investing liquidity, easier international transfers, and the knowledge that you are at the forefront of a newly discovered trend.
However, there can be obstacles to buying a house with crypto:
Instability: The ever-changing price of crypto means that, from the day you put an offer on the house to the day it closes, the value of your cryptocurrency may fluctuate wildly.

Finding a seller: To many people, the world of cryptocurrency still seems like the Wild West. It may be difficult to find a seller who is willing to accept crypto in exchange for their property—partly due to unfamiliarity and the fact that blockchain real estate transactions are more difficult to trace.
If You Buy a Property With Cryptocurrency, Do You Pay Taxes?
If your crypto real estate transaction is structured using U.S. dollars, you can expect to pay typical conversion fees and capital tax gains for the conversion when you cash out. Cryptocurrency is currently classified as "property" by the IRS, so if you use it to buy real estate, you'll owe any realized value taxes.
A benefit of using crypto to buy a home is that you don't have to pay property transfer taxes if you're doing a wallet-to-wallet transfer. However, if you decide to go this route, it is wise to get legal counsel for your own financial protection.
How to Buy a House With Bitcoin or Other Cryptocurrencies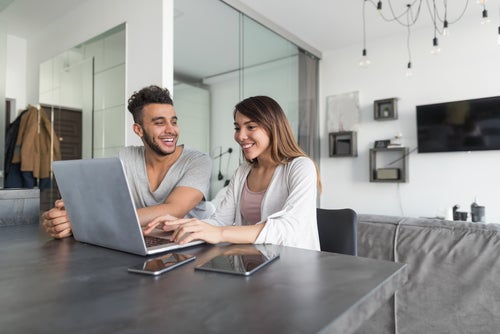 Use crypto as a down payment. One way to spend your hard-mined money is to apply it to your new home's down payment. Some crypto lenders offer loans backed by crypto for annual interest rates much lower than those used by traditional lenders. A plus to using your crypto toward a down payment is that you don't need to cash out your crypto wallet to get financing: no taxable event necessary. However, due to large fluctuations in cryptocurrencies, it may be difficult to determine the loan-to-value ratio, so be sure to compare different lenders to ensure you're getting the best rate.

Buy property with cryptocurrency transferred directly to the seller. If you find a seller willing to sell you their property in exchange for your Bitcoin, there's no reason you can't send it peer-to-peer without needing an intermediary. You'll still have to go through the traditional escrow process through an accredited bank, and you'll want to make sure that you have legal paperwork properly drawn up, but otherwise, your dream home can be yours in a few swipes of your finger.
If you're using a real estate agent, you'll probably have to rethink this method. Real estate agents most likely prefer receiving commissions in the form of real dollars.
Pay your mortgage using cryptocurrency. In 2021, United Wholesale Mortgage became the first mortgage company to accept mortgage payments in the form of crypto. So far, the company is only allowing Bitcoin and Ethereum. Still, it's likely that it will accept other forms of cryptocurrency in the future—and that other mortgage companies will follow in their footsteps.

Use a smart contract to buy a home. If you have tokenized assets (also known as NFTs), you can trade them for real estate property if you find a willing seller. Alternatively, sellers can tokenize real property so that the real estate "smart contract" is added to the blockchain.

Turn your crypto into cash. If your seller is unwilling to exchange their home for your crypto, it's always an option to cash out your crypto and pay the seller in real dollars.
Final Thoughts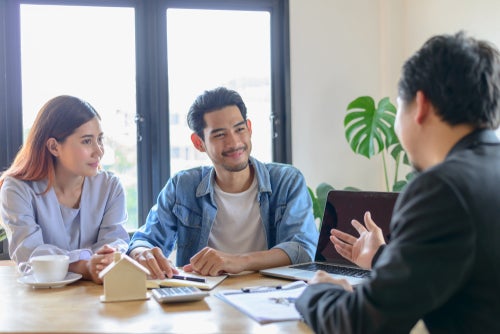 As cryptocurrency assets keep integrating into traditional transactions, they'll soon become a normative part of the real estate transaction conversation. For first-time homebuyers, it may be wise to use conventional financing to buy your next home. But if you're a crypto investor confident in your digital wallet, the possibilities of intersecting real estate and crypto investments are only beginning.
Whether you buy a home with crypto or use the traditional method, it's important to protect your new home investment by buying a home warranty after closing. With comprehensive coverage and flexible pricing and plans, a home warranty with American Home Shield® means budget protection when your covered home systems and appliances malfunction due to normal wear and tear.
Recommended reading: The best places to buy a house
AHS assumes no responsibility, and specifically disclaims all liability, for your use of any and all information contained herein.