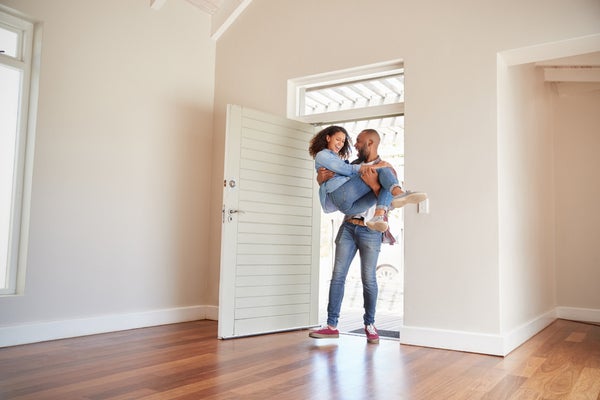 Owning a new home comes with many challenges and responsibilities new homeowners must learn to navigate. Here are some common mistakes to avoid along the way.
Early Mistakes
1. Not knowing how much house you can afford
It's important to understand how much house you can really afford. A general rule of thumb is that your housing expenses shouldn't be more than 28 percent of your monthly take-home income. You'll also want to look at how much debt you have per month (think car payments, student loans and so forth). Once you take these factors into account, you'll have a better idea of how much house you can comfortably afford. And if all these numbers make your head spin, talk to a financial advisor.
2. Depleting your savings account
Many people think they need to sink all of their savings into the down payment on their home to receive a better mortgage rate. While it is a good idea to make an effective down payment, you don't want to be left without any financial resources should you have an emergency or an unexpected home repair. Because of this, it's a good idea to have three to six months' worth of expenses set aside in a savings account at all times.
3. Ignoring your credit report
Don't let your credit report blindside you at a meeting with a mortgage lender. Check your scores regularly, take steps to repair your credit if it's low or damaged, and dispute any errors. Repairing credit and getting errors removed can take time, but it's well worth it in the long run.
4. Not shopping for a mortgage first
Window shopping for houses is definitely more fun than talking to mortgage lenders, but you don't want to get your heart set on a house only to learn you can't afford it. Get pre-approved for a mortgage first. And don't settle on the first lender. Shop around for rates just like you would with any other products. Being pre-approved means once you find a home you're interested in, you know you can swing it financially and quickly make an offer.
5. Overlooking new homeowner programs
Many states and local governments provide incentives for first-time homebuyers that offer low down payments (or no down payments). There are also a variety of programs you might qualify for such as VA loans for veterans or USDA loans for homes in rural areas. Do your research to ensure you don't miss out on these opportunities and talk to your mortgage lender about them, too.
6. Not understanding the costs
There's much more to the expense of owning a home than the cost of a mortgage. For example, you'll now be responsible for bills you might not have had as a renter, such as oil and gas, HOA fees, landscaping costs, pest control, property taxes and so on. In addition, it will be your responsibility to take care of home repairs, whereas a landlord may have covered that previously.
Repair Mistakes
7. Ignoring little problems
Leaky faucets and temperamental appliances may seem like minor issues, but the truth is they can become quite costly. For starters, they run up your utility bills which can really add up over time. Additionally, something as small as a leaky faucet could be causing water damage elsewhere in your home, leading to incredibly expensive repairs.
8. Settling for the first repair bid
As with any service, you want to shop around for bids to make sure you get the best price when it comes to repairs. And remember, the lowest price isn't always the best. Ask friends, family and neighbors for recommendations to ensure you get quality work for what you pay.
9. Not using your home warranty plan
Your American Home Shield® Home Warranty Plan covers many of the repair and replacement costs of more than 20 of your home's major appliances and system parts — from HVAC and electrical to plumbing and doorbells — when they break down due to normal wear and tear. Remember that we're here to help when you need us. Get familiar with what your plan offers in MyAccount.
AHS assumes no responsibility, and specifically disclaims all liability, for your use of any and all information contained herein.