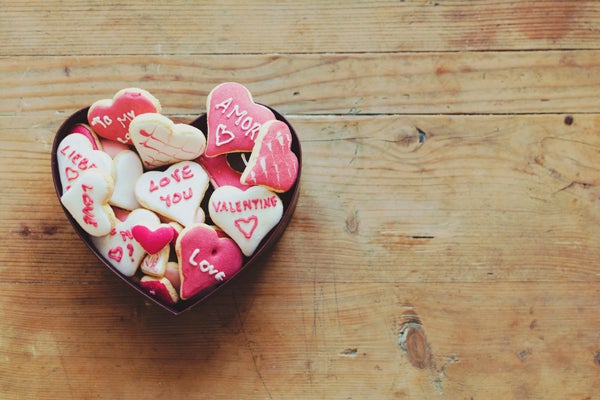 Our homes these days are doing a lot of multi-tasking and heavy lifting for us all: they've had to stand in as offices, schools, restaurants, movie theatres, and much more. This Valentine's Day, why not show your home a little love for being the space that's always there for you? It can sometimes be easy to take our homes for granted, so here are seven easy ways to give your home a hug.
1.

Create Some

Custom

Art
Painting a picture of the front of your home, or taking a photo and turning it into a frameable photograph, are unique ways to create custom art for your house. If you're not artistically inclined, there are lots of artists who can paint a custom picture of your home for you. Some cities and municipalities even have historical archives with photographs of older houses, and you can often purchase copies of these photos for framing. Similarly, you can also purchase aerial photos of your property for a more modern take on home sweet home.
One of the easiest and most overlooked things you can do to literally shed a new light on your home is by switching out your light bulbs. The initial cost of switching from traditional incandescent bulbs to energy-efficient LEDs can be a bit of an investment, but you'll save a lot of money and effort in the long run by never having to change a light bulb again. If your space is too dark, make sure you're using bulbs with the correct brightness, and consider adding more lighting to the room with table or floor lamps.
Pro tip: Look for warm white LED bulbs for spaces you want to feel cozy, welcoming, and traditional, like a living room or den. Cool white bulbs contain more blue light and are well-suited for task lighting in kitchens and utility rooms or for when you want a more modern look.
Just like the right light can update a room, so, too, can the right paint color. Paint is one of the easiest ways to transform a space and it's relatively easy to change and update if you want to try something new. Many paint companies have online simulators that allow you to see your space in a new color scheme before you commit. And for a really easy change, consider just changing the color of your front door – it will instantly update the look of your house and up its curb appeal.
4

.

Focus on

On

e Room

at a Time
It can be easy to get overwhelmed when a listicle might suggest tidying your house to spark more joy, or finally tackle that garage organization project you've been putting off. We say life is stressful enough these days without that kind of unnecessary pressure! If you really want to take on an organizational or design project, focus on one room at a time and one room only! A spare room is a great place to start because you can turn it into exactly what you want or need. Think about how you'll get the most use of the space: guest bedroom, home office, baby room, home gym, or all of the above? Go for it!
Like new light bulbs, clean windows can dramatically update the look and feel of a room. Unless you live in a small one-story home, washing windows is usually best left to the professionals. Hiring a pro window washer is relatively affordable and they'll get the job done thoroughly and quickly. Trust us: if you haven't cleaned your windows in a while, you'll be amazed at the transformation!
Sometimes it's not what we do that can make a difference, but what we don't do. Every home has imperfections, foibles, and things that can be repaired or improved. Take a look at the big picture and save yourself some stress by accepting the little imperfections that don't really matter to you and your family's overall enjoyment of your home. You'll feel better and love your house more when you stop focusing on the things that are wrong and start appreciating all that's right about your home. (And see tip #7 below for what to do to stop worrying about some of the big things that really do matter around the house!)
7. Protect Your Investment
One of the most meaningful ways you can love your home is by protecting it from unexpected calamities. A good home warranty can help do that. Find out exactly what's covered, what's not, and how you can tailor an American Home Shield plan to your home and budget.
AHS assumes no responsibility, and specifically disclaims all liability, for your use of any and all information contained herein.