Landscape lighting can significantly impact the curb appeal of your home. These bright ideas will help shed some light on your home's exterior.
Lighting adds to the beauty of your landscape and can significantly increase the curb appeal of your home. There are various options available for installing outdoor lighting -- ranging from high-voltage lights for $100 to low-voltage lights for $30 to $300. Once you choose the type of lights you want, it's time to decide where to put them. What do you want to highlight? What will increase your entire landscape's appeal? Here are some bright ideas for your landscape lighting design: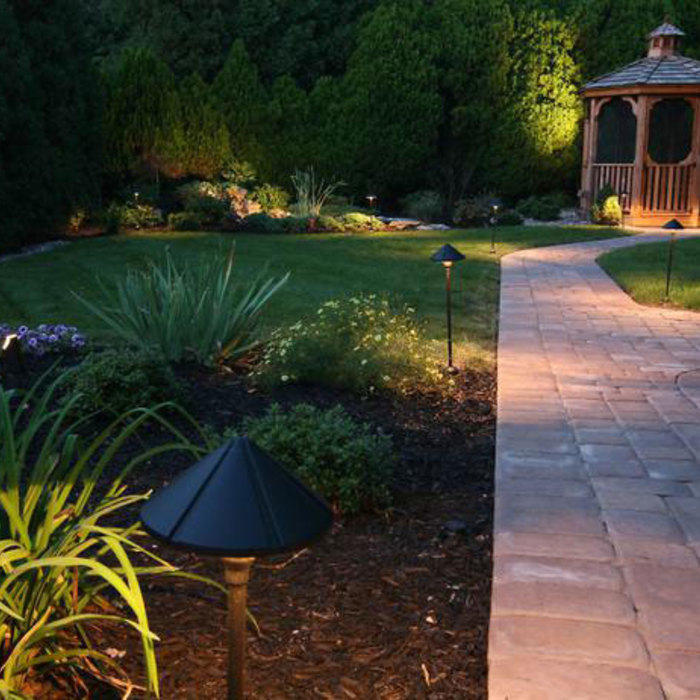 via HomeAdvisor.com
7 "Bright" Places for Landscape Lighting:
1. Pathways:
Path lights are important for safety, and they add appeal to your landscape. You can install them directly next to the path, or use them as ambient lighting in the bushes or around flowers.
2. Patios:
If you spend a lot of time on your patio at night, adding some downlights could help create some ambiance and a moonlight effect. It also makes your patio easier to navigate, preventing you from tripping and falling.
3. Trees:
Adding hanging lights to your trees can make them focal points and add extra lighting to an area. Depending on the types of trees you have, you might consider strobe lights with batteries that you can nail into a branch.
4. Entryways:
It might be worth using lights to show off your entryway, whether it's in the front yard or the back. You can also use lights to make it easier to find openings at night. You'll probably want to stick with hanging lamps, which come in various styles.
5. Deck:
Illuminating your deck at night can have many benefits. Depending on its use, you might need to access steps or a cooking area. You can also use uplighting to better light the entire deck, especially if there's a ceiling.
6. Gazebos/Pergolas/Trellises:
Depending on the design of your gazebo, trellis or pergola, you might use lighting to accent a special building element. It's also good for using the space at night.
7. Swimming Pool:
If you have a pool, lighting it up at night could add significant appeal to your backyard. Depending on how it's designed – with shrubs, trees or rocks adorning it – a few extra accent or landscape lamps could set the mood during a nighttime walk through.
via HomeAdvisor.com
Non-Traditional Ideas for Lighting
There are many other areas around your home where you can add lighting to improve your landscapes appeal. This includes your garage or perhaps your driveway, where you could add floodlights or hanging lamps. When it comes to your driveway, solar lamps could be useful in lighting a path to a door and helping you avoid an accident. Lighting these areas is more beneficial when it comes to protecting yourself vs. increasing curb appeal, but it's an investment that is still worth it.
Conclusion
These are only some places where you can use landscape lighting to brighten up your exterior areas. Depending on the look you're going for, you might also consider putting lights around fences, windows or other architectural elements. While these areas aren't traditionally considered part of the landscape, implementing a lighting system can complement the natural beauty of your home at night.
Next
>
My Top 3 Lessons From Hiring a Landscape Contractor