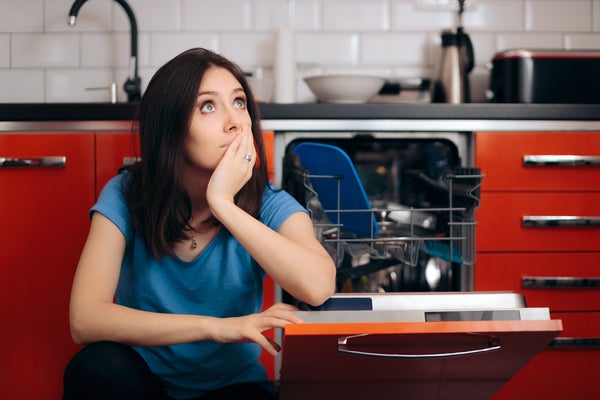 Regardless of the quality of your appliances or how well you take care of them, they're eventually going to break down and when they do, you'll have to ask yourself an important question: Do I repair or replace a broken appliance?
Sometimes, repairing broken appliances makes the most sense. If you can get a few more years of use out of an appliance after having it repaired, you should do so. Even just getting a few more months out of an appliance can give you time to save money, choose the best model, shop for a good deal, and plan for a replacement. Appliance breakdowns always seem to happen at the worst times and can be very disruptive to your daily life. For example, having to go out and buy a new refrigerator at the last minute can be hugely stressful, not least of all because while you're at the store, overwhelmed with choices and trying to find a new one, your food is back at home going bad.
It's not always easy to know when you should replace instead of repair an appliance. If you have a home warranty or service plan, you can leave that decision to the pros and rest easy knowing that your budget is protected for covered repairs. For American Home Shield® members, a home service plan is like a home warranty, but better because it includes member-exclusive pricing on home maintenance services, as well as a variety of home services — from tech installation and setup to pre-season HVAC tune-ups, and more. Our plans work harder to give you peace of mind while protecting your budget. So, what does a home warranty cover? Do they cover appliances? Many do - American Home Shield offers home service plans that cover both major components of your home's systems (heating and cooling, electrical, and plumbing) and appliances no matter their age - no maintenance records or home inspections required. And if we can't repair a covered item, we'll replace it. As a member, we want you to know that your budget, time, and, let's be honest, your sanity is protected for peace of mind.
If you have trouble with an appliance, here's some advice to help you decide when it's time to replace it or repair it.
Consider the Age of the Appliance
When you're trying to decide whether to repair or replace an appliance, the age of the appliance matters a lot. Like everything else, appliances only last so long, so if your appliance is nearing or has exceeded its expected lifespan, you may want to go ahead and replace it, even if the repair needed is relatively minor, because it's likely to need additional repairs soon.
An older appliance is more likely to break down again soon, but that's not the only reason you should consider replacing it sooner rather than later. A newer version will be more energy efficient, and the older your appliance, the more you stand to benefit from the cost savings of a newer model. New appliances also have an impressive range of modern functionalities that you might enjoy, including the ability to control them via a smartphone app or re-order your groceries directly from the refrigerator's touch screen.
While an older appliance may technically be fixable, there can be setbacks due to its age, such as parts that are difficult to find or prohibitively fixable. If the parts needed to fix your appliance are hard to find these days, it doesn't matter how technically simple or cheap the repair would be otherwise.
How Expensive Will It be to R

epair Y

our

Broken A

ppliance

?
Some appliance breakdowns are relatively cheap, while others cost so much that it's not worth repairing the machine. For example, if the condenser coil on your refrigerator goes out, it could cost so much to fix that you're better off getting a new fridge. A good rule of thumb is, if a repair is going to cost you more than half of the cost of a new appliance, you should just go ahead and buy a replacement. When you consider the energy savings of running a newer, more efficient appliance, along with the increased functionality of a new model, you'll be better off buying a new appliance that will run smoothly for years without breaking down.
As a member, when you request service with American Home Shield for a covered item, American Home Shield will assign a qualified contractor to diagnose the issue and assess whether or not a repair is cost-effective or it's a better to replace the appliance with a new one. If the repair professional decides that a replacement is needed, we'll cover some or all of the cost of a new appliance depending on your home service plan coverage.
Has the Appliance Had

M

any R

ecent B

reakdowns

?
If the current breakdown you're dealing with is the latest in a string of them, it might be time to replace your appliance. Recurring breakdowns are a sign that an appliance has reached the end of its useful life. This is especially true if the appliance is getting on in years. There comes a point when continuing to repair an appliance means throwing good money after bad.
When it comes to repairing or replacing an appliance, American Home Shield, empowers homeowners with protection. If you're not an American Home Shield member yet, but want to take advantage of our comprehensive coverage, plus exclusive member benefits like a discounted HVAC tune-up, air filter delivery, and re-key services, skip the phone lines and get a quick quote online. For 50 years, homeowners like you have counted on us to help them plan for the inevitable – so when their covered systems and appliances break down, they know exactly what to do. We like to keep things simple. We'll never ask you for a home inspection or to provide maintenance records when you join because we've built our coverage for everyday life — and all its messiness. That means you'll get coverage for things that aren't automatically included in many home warranty plans, like old appliances, improper installation, mismatched systems, rust and corrosion, and more.
AHS assumes no responsibility, and specifically disclaims all liability, for your use of any and all information contained herein.