Using recommended thermostat settings can do wonders for your energy costs. Energy.gov reports that you can save up to 10 percent in heating and cooling costs by turning it back seven to ten degrees in the winter and setting it as high as you can manage during the summer.
Best Heat Setting for Winter
Many people find that 68 degrees as a thermostat setting for winter provides a comfortable home environment and keeps heating costs under control. At night, or during the day when everyone is away, set the house temperature six to 10 degrees cooler to provide more savings.
Average house temperatures in the winter will vary based on your schedule and needs. For example, if people in your household wake up later on weekends, you probably won't need to raise the temperature to 68 degrees until 9 a.m. Then, on weekdays, you might like your house to be comfortably warm by 6:30 a.m. when the earliest riser stumbles into the kitchen seeking coffee.
Rather than raising your home's overall average house temperature during the winter (along with your heating bills), try bundling up in a warm sweater or blanket and sipping a hot drink. If someone in your household just can't live without that extra warmth, use a space heater or two to make their most-used areas of the home extra-toasty.
Best Temperature for A/C in the Summer
The general recommendation is that 75 degrees or above is the best temperature to set your thermostat in summer for cost-efficient cooling. Your family's habits may allow you to keep the temperature higher. When it comes to determining the best temperature for your A/C, you should consult with your family and see what everyone is comfortable with. Additionally, a box fan allows you to raise your thermostat by making rooms feel cooler than they are, and they can cost roughly one-tenth as much to run, compared to an air conditioner, during the summer. (It's unlikely that you'll be using your air conditioner in winter, after all.)
Using a Programmable Thermostat
The key to making these recommended thermostat setting changes effortless is to install a programmable thermostat. You can assign different temperatures to different times of the day or even different days of the week. Some households have different temperature schedules set when away from home versus being at home. These household rhythms can be programmed into the thermostat. Your family might consider investing in a super-smart learning thermostat, which learns your cooling and heating patterns, helping you save money in the summer and winter.
Programming your thermostat to raise or lower the temperature according to your family's schedule can save a great deal of money—you'll never have to heat your home more than necessary. And you'll save time since your thermostat settings will rarely need revisiting.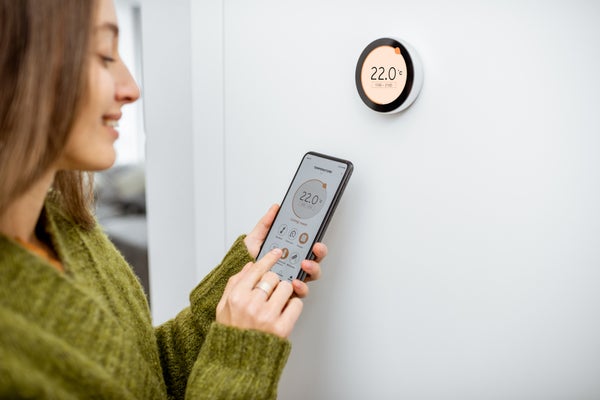 There isn't necessarily a perfect number when it comes to the question of the best temperature for your heater in winter or your air conditioner in the summer. It mostly depends on the comfort level of the people in your home.
Protect your budget (and your comfort) by using these best home thermostat recommendations. Then, make sure your heating and cooling systems are protected with a home warranty plan from American Home Shield. We have pricing and plan options for every budget.
AHS assumes no responsibility, and specifically disclaims all liability, for your use of any and all information contained herein.