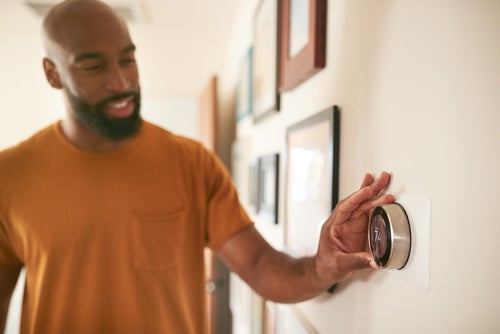 There are so many wonderful things about summer: beach days, barbecues, stepping out the door without having to bundle up. The chilly temperatures of spring fade, and you're finally able to turn off the heater and open the windows! It's a glorious feeling—until 90-degree days hit.
If you live in a region that experiences soaring summer temps, you know just how important air conditioning can be. However, with rising energy prices, learning how to save money on air conditioning bills is more important than ever. Here are seven ways to increase A/C efficiency that may help save money on your monthly utility bills.
1. Turn your thermostat up.
Many homeowners wonder about the efficient temperature for air conditioning. Most air conditioning units are designed to keep your home at a maximum of 20 degrees lower than the temperature outside. So, if your thermostat is set to 70 on 100-degree days, you are putting too much stress on your appliance. Do you want to know a myth about air conditioning? Your A/C isn't meant to transform your home into an icy tundra in an August heat wave.
Turning your thermostat up is one of the best ways to save money on air conditioning and make your A/C more efficient. If you can be comfortable at a higher temperature, you won't have to spend as much money—and your unit won't have to work as hard—to cool your home. At the very least, don't set the temperature more than 20 degrees lower than the outside temperature.
2. Invest in a smart thermostat.
It's best not to turn off your air conditioner when you leave the house. Instead, turn up the temperature a few degrees when you leave.
That may be the most economical way to use your air conditioner, but having to adjust it every time you walk out the door can be tedious and easy to forget. A digital or smart thermostat can be programmed automatically whether you're at home or not.
A smart thermostat also allows you to control your home's temperature remotely, so you can adjust your thermostat if you're running late or are arriving home early. Some smart thermostats even monitor your family's activity, learn your patterns, and program themselves accordingly to create a more energy-efficient air conditioning environment.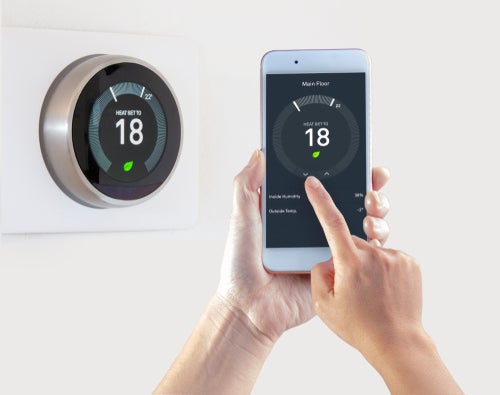 3. Maintain your A/C.
Conducting regular air conditioner maintenance is one of the best things you can do to improve air conditioner efficiency and prevent breakdowns. A spring HVAC tune-up can keep your system functioning properly and identify issues before they arise so you can avoid unexpected HVAC failures when temperatures rise.
American Home Shield® members receive a discounted HVAC tune-up* with the ShieldSilver™ and ShieldGold™ plans; each discounted tune-up typically costs $75. ShieldPlatinum™ members receive one free tune-up annually for maximum savings.
*We do not offer HVAC tune-ups in Hawaii, Alaska, and select zip codes.
3. Close your curtains.
Rays of sunlight streaming through your windows can raise the interior temperature of your home and force your A/C unit to work harder. You can ease the burden on your unit and lower your cooling costs simply by closing your curtains and blinds, at least during the hottest or brightest part of the day.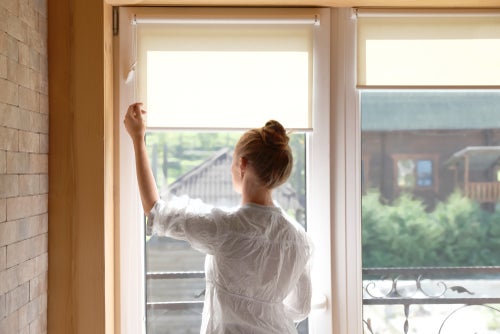 4. Install more efficient windows.
If closing the curtains or blinds throughout the day isn't feasible, you have other ways to save money on air conditioning. Consider installing low-emissivity (or Low-E) windows instead. These energy-efficient windows have a reflective coating that keeps heat out while letting light in.
Whatever type of windows you have, make sure the seals are tight and re-caulk if necessary to keep cool air from escaping.
Learn about other improvements for an energy-efficient home.
5. Insulate your ductwork.
If your HVAC's ductwork runs through a non-air-conditioned space, then all that freshly cooled air could be warming up on its way to your vents. Make your home energy-efficient by insulating your ductwork. Doing so will help keep the air your HVAC produces cooler as it travels through your home's ventilation system.
Do you have leaky ductwork? Seal up leaks with a UL 181-rated duct-sealing tape.
6. Use appliances wisely.
Some appliances, like your oven and clothes dryer, can heat the inside of your house. Even if you have high-efficiency air conditioning, added heat will strain your A/C and potentially increase your cooling costs. To minimize the impact of heat-generating appliances on your A/C, avoid using your oven or clothes dryer during the hottest part of the day. You could even take on the challenge of not using these appliances at all on particularly scorching days; use a slow cooker, an air fryer, and a good old-fashioned clothesline instead.
7. Consider the placement of your thermostat.
Make sure you don't have any heat-generating appliances near your thermostat. Lamps and appliances that warm up the air around your thermostat can throw off its measurement of the indoor air temperature, making your A/C unit work harder because it thinks the inside of your home is warmer than it actually is.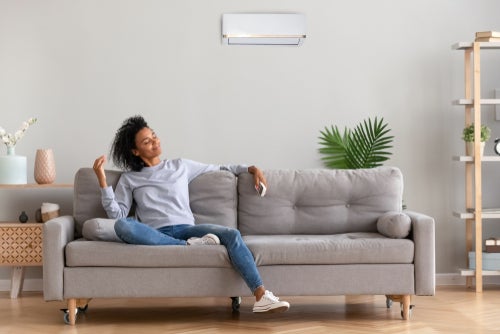 Staying cool on hot summer days is crucial for your comfort. That's why American Home Shield® provides air conditioning warranty coverage with all three of our home warranty plans. When a covered A/C component breaks down from normal wear and tear, we'll help repair it—and if we can't fix the part, we'll replace it up to your plan's coverage limits and subject to the limitations and exclusions of your plan. Taking steps to ensure you have efficient air conditioning is important to avoid an expensive energy bill. Protect your budget even further with an American Home Shield® home warranty. Check out our pricing and plans today.
AHS assumes no responsibility, and specifically disclaims all liability, for your use of any and all information contained herein.