Blazing summer temperatures are here, and that means increased energy costs as you crank up the A/C to beat the heat. But cooling your home during the summer means striking a balance between a comfortable temperature and a comfortable cost. Keeping your home cool can get expensive fast, especially if you live in a hot climate. Here are some ways to keep your A/C bill low without getting overheated.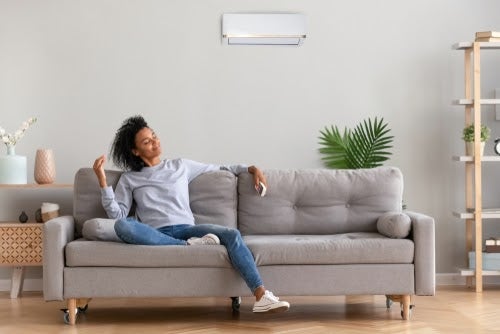 1. Get Your A/C Tuned Up Regularly
If you haven't gotten your A/C tuned up this year, it's time to do so. And you should go ahead and get it serviced every year, preferably in early spring before you have to use it. American Home Shield® offers discounted A/C tune-ups to home warranty members March through May. After a tune-up, your A/C will be primed to function at maximum efficiency, so you won't have to pay as much for cooling.
During an A/C tune-up, the technician will clean your condenser coils, check your unit's refrigerant levels and make sure everything is in good working order. If you have a refrigerant leak, you can have it recharged, although A/C recharge costs for older systems using R22 refrigerant are so steep, you might be better off buying a new unit.
2. Install Window Film
If you need to update the windows on your home, it can really improve your energy efficiency. Even installing storm windows over your older windows can cut your energy costs almost as much as brand new windows. But if you can't afford to buy new windows, window film is the next best thing. It can block UV rays to keep heat out of your home, protect your furniture from sun damage and even improve privacy.
3. Repair Your Weather Sealing
When was the last time you checked the caulking around your windows? How does your weatherstripping look around your windows and doors? Leaks around your home's doors and windows let cold air out. Rather than letting your hard-earned money literally seep away, check the caulking and weatherstripping around your windows and doors and replace any that is damaged. If you have drafty doors and windows, you need to install more effective weatherstripping around them.
4. Put in a Smart Thermostat
A smart thermostat, or even just a programmable one, can yield big savings on your energy bill. You can program your thermostat so that your A/C is only running during the hours when you're home, awake and active. A smart thermostat will gradually learn your patterns and adjust the temperature of your home accordingly, and you can control it from afar via your smartphone. It's worth the money.
5. Hang Some Curtains
In the same vein as window film, curtains can block sunlight and, by extension, heat from entering your home. Thick blackout curtains are the best option for this, but any curtains or shades will do. If you don't want to completely black out your entire living space, you can just draw the curtains on the sunniest side of the house — usually the south side in the summer. You can also plant trees or shrubs around your home to shade your windows and keep the interior naturally cooler.
6. Get Solar Panels
Solar panels can be pricey, but they pay for themselves in about 8 years, assuming a yearly energy cost of $2,500. With solar panels, your energy costs could be free — and you could enjoy rebates and other financial incentives for installing them.
7. Cook Outside
Even cooking a small meal can really heat up your kitchen, forcing your A/C to work overtime to compensate. Cook outside as much as possible. You might as well, since the weather is so nice.
8. Change Your HVAC Filters
Clogged, dirty HVAC filters force your A/C to work harder than it has to, and they cost you money. Change your HVAC filters at least once every three months in the summer, but as often as once a month if you have pets. That way, air will be able to flow freely into your home and you'll spend less on cooling.
9. Upgrade Your Insulation
The insulation in your home doesn't just keep you warm in the winter — it also keeps you cool in the summer. And cool air doesn't just leak out through doors and windows. It can also escape through your crawl space, attic and walls, especially if your home is older. Make sure your house is well-insulated, and upgrade your insulation if it isn't.
Cooling costs don't have to bust your summer budget. If you feel that your A/C isn't running properly or if you want to make sure your system is covered during the season, an American Home Shield home warranty is just what you need.
AHS assumes no responsibility, and specifically disclaims all liability, for your use of any and all information contained herein.