Rain gutter cleaning is necessary for all homeowners and should be added to your fall maintenance and spring maintenance checklists. Learn some common tips for cleaning your gutters and downspouts. Clearing out your home's rain gutters may not be a fun chore, but it's an important one. It protects your home's walls and foundation from moisture, mold, termites, and rot.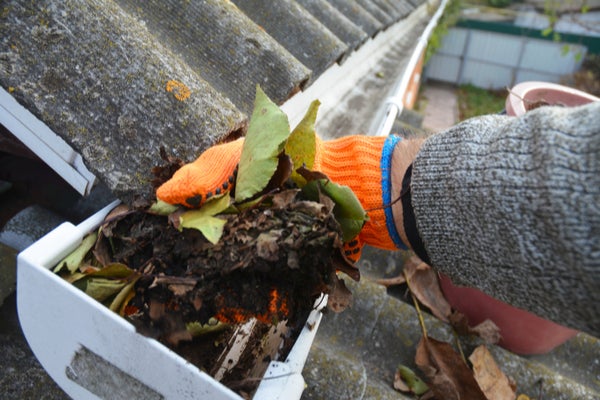 The best way to clean gutters is by getting up on a ladder, pulling out all the gunk and sediment by hand, and flushing the gutters and downspouts with a hose. But should you hire someone or do DIY gutter cleaning yourself?
Whether you pay someone or DIY it, you need to clean your gutters at least every spring and fall—possibly more often if you have a lot of trees nearby. Here are some factors to consider when deciding whether or not to hire a professional.
Understand the Process
Before you go out and buy all the stuff you need to clean your gutters, ask yourself if you're physically up to the task. Are you comfortable on a ladder? Do you understand how to use a ladder safely? Don't assume that you can clean the gutters from up on the roof—that's not safe.
Cleaning your gutters safely will require a lot of climbing back down, moving the ladder, and climbing back up again. You should never try to reach debris if it means moving your waist beyond the two rails of the ladder.
If you don't think you're up to the task of cleaning out gutters or you don't have the equipment, hiring a professional may be your best option.
Find Out How Much a Professional Gutter Cleaning Costs
According to Angi.com, the average gutter cleaning cost is $159—but that depends on your location, your home's square footage, and how many stories your home has.
This may sound a little steep to pay twice a year, but it may be worthwhile if you have health concerns that could put you at risk of falling or you have a fear of heights. Professionals may be able to spot potential problems with your gutters or roof, too, and you can get it fixed before too much damage occurs.
However, there are some circumstances under which you might expect to pay more than the average cost to clean gutters. How much to clean gutters depends on:
Local rates

Your home's square footage

If the roof is steeply pitched

The number of stories in your home
The Best Way to Clean Gutters Yourself
If you decide to go the DIY gutter cleaning route, the good news is that you don't need a lot of technical skill. You just need a ladder, a hose, a pair of gloves, and, ideally, someone on the ground to help stabilize the ladder.
Here's a quick rundown on how to clean gutters.
If you're using an extension ladder, you should probably invest in a standoff stabilizer—not only will it keep the ladder more stable on a potentially uneven lawn, but it will help protect your gutters, too. You want to finish this job with nice, clean rain gutters—not damage in need of repair.
You'll also want something to catch or collect the debris you'll be pulling out of your gutters. You can spread a tarp on the ground and just drop the leaves and gunk onto it. If you're using an A-frame ladder, you can hang a bucket from the hook at the top to collect debris for disposal.
Once you have all your equipment, climb up on the ladder and use your gloved hands to remove debris from the gutters. Even though it'll be tempting to stretch over to grab more gunk, it's just not worth the risk of a fall. Make sure you're always following proper ladder safety measures.
Then, flush the gutters and the gutter downspouts with your hose. Use high water pressure to clear clogs from a gutter downspout. Apply gutter sealant to any leaks.
Gutter guards may not keep all debris out of your gutter, but they can block most of it. Installing them costs between $950 and $2,000. That may seem expensive, but when you factor in biannual professional gutter cleaning costs versus not having to clean them nearly as often with gutter guards, the price may be worth it in the long run.
You'll need to maintain gutter guards by sweeping off the top of them every few years, but they should last as long as your gutter system does.
If you're not a fan of heights, but you really don't want the added expense of paying someone, you may want to consider a gutter vacuum. While it's not as thorough as getting up on a ladder, gutter vacuuming can be done from the ground.
Cleaning your gutters is a big job, but doing it correctly, thoroughly, and regularly is important for keeping your house in tip-top shape. A well-maintained gutter system keeps water away from your foundation, protects your flower beds, and keeps moisture, mold, and termites out of your walls. Do your house a favor and find the easiest way to clean your gutters—whether you do it yourself or have them professionally cleaned—because good gutter maintenance can prevent costly damage.
In addition to checking off rain gutter cleaning from your home maintenance checklist, make sure to inspect your roof for leaks. Leak repairs can be expensive. Having roof leak repair coverage from American Home Shield can help. You may not be able to prevent system and appliance breakdowns completely, but if you're an American Home Shield® member, you can rest assured that your budget will be protected when covered items do break down.
Find out what's covered by a home warranty as well as additional lawn care tips for your home.